At 8:01 Tuesday morning, Bell Media sent an email with the following headline:
"TSN once again ranks as Canada's #1 specialty channel in all key demos"
At 8:08 a.m., Rogers–who hosted today's Canadian network upfront in Toronto–blasted out their message:
"Sportsnet is Now the #1 Sports Brand on TV in Canada"
So who is telling the truth? As Rogers' boss of hockey and most everything else Scott Moore said to me Tuesday, they both are.
Moore kinda started this whole, "Who's bigger?" obsession. His rallying cry to his troops at Sportsnet that one day they'd be the No. 1 sports team in Canada leaked out three or four years ago. TSN laughed; they were absolutely dominant, enjoying twice and sometimes three times the sports audience in Canada.
Then, last year, Rogers rolled the dice on NHL hockey to the tune of $5.2 billion over 12 years, gutting the competition. Over the past 13 months, Rogers claims–based on Numeris data–that "the Sportsnet brand had the largest share and average minute audience of any sports brand on TV in the country in the three key demos that matter most in sports: 2+, Men 18-34, and Adults 25-54."
Meaning, if you combine audiences on Sportsnet, Sportsnet ONE and Sportsnet 360, the audience is greater than the audience for TSN channels 1 through 5.
The breakdown: In Share 2+, Sportsnet Brand beats TSN Brand 3.9 vs. 3.7 in past 12 months. The AMA 2+ over same time frame: 167,000 vs. 158,000. And so on. It's a big accomplishment, as Moore points out: nobody has ever come close to ESPN in the States.
Now, Rogers spent a fortune to accomplish this, but Keith Pelley–who will leave Rogers Media later this year to move to London and become the head of the European golf tour–can leave saying mission accomplished: we're No. 1 in sports as promised.
Not so fast says Bell. Their release points out, head-to-head, main TSN station vs. Sportsnet National, TSN still drew more viewers. Measuring things mid-May 2014 to mid-May 2015, and drilling down 2 am to 2 am, they score it 140,400 2+ viewers TSN to 112,100 viewers Sportsnet. In 18-49 they report it 50,700 to 41,200. This makes them not only the most popular sports station but the No. 1 specialty network in Canada.
No matter who you think won, how did TSN stay so close without hockey? Well, they still had hockey–world hockey tounaments, including the Juniors, plus regional games featuring the Leafs, Senators and Jets. The big leveler, though, was the Grey Cup, an enormous draw, as well as the sustained popularity of the CFL.
Hurting Sportsnet was the Leafs' horrifying mid-season swan dive and the lack of Canadian team playoff success. Still, the Sportsnet channels were up year-to-year in average audience–13%–and TSN was down.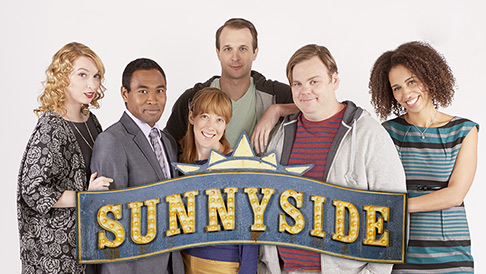 Rogers officials announced Tuesday that they are switching back to entertainment fare Sundays on City. Moore and vice president Hayden Mindell saw an opportunity to grab and simulcast Family Guy–still a draw, especially with young males–and Bob's Burgers away from Global. Fox's animated comedies were crowded out and shelved much of last season with Global's strategic switch to female driven dramas. This fall, Rogers plans to hammock the Winnipeg-produced comedy Sunnyside in between the Fox shows Sundays, a move which should boost the highly original, Canadian-made sketch-comedy. Sunnyside is about as close to a cartoon show as you could make with real actors. Plus it is almost a Canadian orphan in a sea of imports (with the shared CBC sitcom Mr. d Rogers other nugget of Can-con).
That pulls the Sunday "Hometown Hockey" night off Rogers' City schedule next fall and sends it back to Sportsnet–a move that should also boost Sportsnet's overall numbers next season. The Rogers brass sees this as win-win, allowing them to grab strong ad revenues on City and Sportsnet on Sundays next season.
The folks at Bell, who get their upfront licks in Thursday, are likely to see it another way. Last year, the Rogers team bragged about how a Sunday night of hockey was going to be a game changer in conventional broadcasting. It didn't turn out that way, with City still swarmed by entertainment imports on CTV and Global, not to mention all the eyeballs drawn to AMC, HBO, PBS and Netflix Sunday nights.