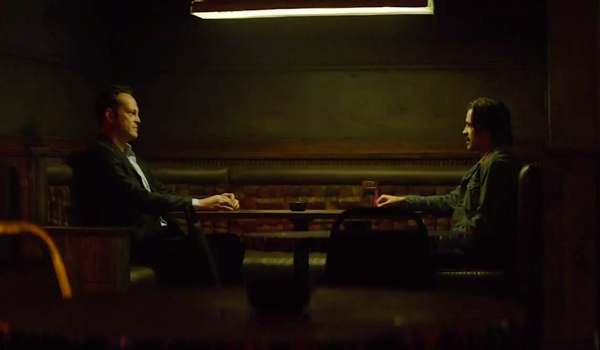 Summer is the fastest season, A few days have already whizzed by before I could get this link up to this story I wrote on Summer Television for The Canadian Press.
Things slowed right down, however, for Sunday's Season Two premiere of True Detective (HBO, HBO Canada). I watched most of the first hour on an 88-inch, curved, 4K-ready, SUHD Samsung I was testing out at this tricked TV lair in downtown Toronto (more on that in a future post). Even in all that super high definition, not much was happening. The fact you could see every greasy hair on Colin Farrell's noggin did not help the story.
Things sprang to life in the last 90 seconds, but as somebody in my posse said, why didn't they open on the murder scene, as they did in Season One? Instead, this way, that guy in the dark by the side of the road with his eyes put out just seemed lucky–he didn't have to watch the preceding 55 minutes.
It could be that the first episode of Season One is just a hard act to follow. Director Cary Fukunaga made pace and composition so much of that experience that the electric performances of Matthew McConaughey and Woody Harrelson were just the cherry on top. Season Two, helmed by various directors, is still noirish and stylish. As has been observed elsewhere, it seems to have a dry, David Lynch-like level of unsettling suspense. That's a problem, too; if something seems derivative, it might not seem so unique.
Well thank you Captain Obvious. Vince Vaughn, sure he can play a bad guy, but he's starting to look out of place without a Blackhawks sweater and sheet of Plexiglass in front of him.
Episode Two bows next Sunday at 9 p,m, ET.