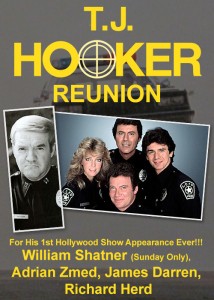 There's a big TV press event going on right now in Los Angeles and I'm not there this year and it's killing me.
Yes, I'm taking about The Hollywood Show, a celebrity autograph deal that I've attended off and on for close to 20 years. Sunday is the final day, so if you're in the area, head to the Westin Los Angeles Airport Hotel.
The Hollywood Show brings 60 or 70 former stars—generally actors who worked in television in the '60s, '70s or '80s—into a convention-like setting. Rows and rows of tables are set up and folks—who come from across North America—stop, chat and sometimes ask the celebrity to sign one of the photos they have at their table.
Usually this is an event that brings out used-to-be's. Four or five years ago they had all the Welcome Back Kotter  sweathogs not named Travolta. Another time they had all the original Dallas cast mates who did not make the cut for the TNT revival.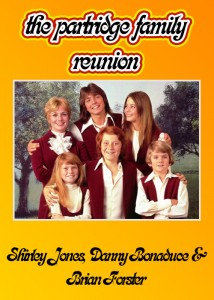 Sometimes it's the last chance to meet these older stars. Years ago, I caught sight of Green Acres icon Alvy More at one of these shows just weeks before he died. Same with Buddy Hackett.
This weekend, however, they have a couple of cast reunions featuring TV icons. William Shatner is there, not signing Star Trek shots but photos from his days on T.J. Hooker. Castmates Adrian Zmed, James Darren and Richard Herd will also be on hand.
Shirley Jones is part of a Partridge Family reunion with Danny Bonaduce and Brian Forster (the second little drummer) are also in attendance.
Also attending are Lindsay Wagner (The Bionic Woman), Richard Chamberlain (Dr. Kildare), Richard Thomas (The Waltons), Dawn Wells (Mary Ann from Gilligan's Island), Martin Landau, Susan Anton, Bobby Hart from Monkees songsmiths Boyce & Hart, Greg Evigan from B.J. & the Bear, Tristan Rogers, Cheryl Miller (Daktari), Adrian Zmed and Sally Kellerman,
There are always a few celebs out of left field, including Ken Davidtain (the fat guy from the Borat movie),  former wrestler/porn star Chyna, early Internet babe Cindy Margolis, Pat Priest (the normal one from The Munsters) and Hollywood child star Margaret O'Brien. Sports stars such as Roman Gabriel and Joe Kapp are also at this summer's show.
If you want autographs, bring lots of money. The price has gone up, with most signing for as much as $40 bucks. It's $75 for Shatner. A T.J. Hooker cast shot will set you back US$125; The Waltons $160.
For more information, follow this mind-blowing link.