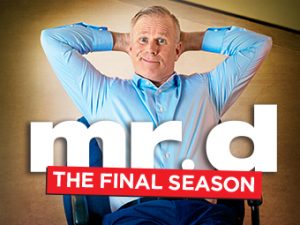 After eight seasons, Mr. D airs its final episode tonight on CBC.
That's a long run in Canadian television, especially for a sitcom. Corner Gas, for example, lasted six seasons (although it chalked up more episodes). The King of Kensington reigned for five. Schitt's Creek returns for its fifth season in January.
I happened to be in Halifax earlier this year and arranged to visit the set as the series was wrapping production. Here's my quick Q&A with co-creator and star Gerry Dee heading into the final scenes:
Did you know this was how you wanted the series to end?
GD: No. we ended season seven in a way that we handcuffed ourselves a bit. That could have been the last episode, right? When we decided to come back for one more, our conversation with CBC we had to get creative. How does Gerry get back? There's the easy way where it's a bad dream and it wasn't true but we wanted to think of something that was a little more clever so we think that we have done that with this.
The final script then. Was that pretty much the ending you always had in mind?
GD: No. it was… we broke it in the writer's room as a group. How do you end it? We think we have something pretty neat. We have to wrap up a lot of characters, a lot of story lines. I'm really happy with how we're ending it.  It's always hard to end, you think of how some sitcoms ended their last show. Some were great and some weren't. You want to do something people will think is pretty good.
So are you going to wake up in bed with Emily from Newhart?
GD: No!
You taught high school in Toronto for ten years before venturing into comedy. You must have heard from many teachers over the years who weren't exactly proud of Gerry Duncan.
It's a fun character to play. I think that the show works well with teachers because we're saying things we're not supposed to say. So what I'd hear is, 'Stop it, we can't tell our secrets!'
It's such a strong cast and tight-knit group of people. When you have this much talent on a show its bound to be good. We think it is. It's a testament to everyone working on it.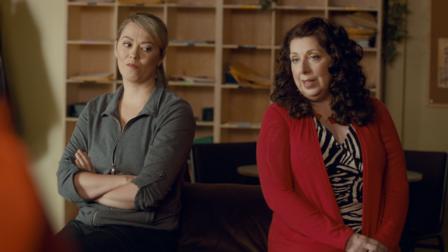 The final episode will be No. 86. That's a long run for a Canadian sitcom. Where do you get your stories?
GD: I have teacher friends, some who come in the room and help us break stories in the early weeks of writing — because it's been a while since I've taught. It's such a great group of writers, the actual teachers could say one thing and we'll turn it into an episode or story.
I really love that it's been a rallying point for teachers. They don't all like it but most have a sense of humour. I don't think there's a better teacher show in the world that's more authentic, that's been aware of what really goes on and really touches the little intricacies of teaching. Obviously you go back to Welcome Back, Kotter which was a really great cult show. This show focuses on the really inside baseball stuff and we've made it work for a general audience. I'm really proud of that.
You and your wife have three children. Have they all appeared on the series?
This year was the last. My little guy did a couple of scenes. He was actually really good.
People say it's nepotism and sure, I guess it is. They had to be good though. We had a scene with my son last year and I had to cut it. We had scenes with my daughters in the early years and I cut them, too.
How did that go over at home?
GD: They don't care, they don't know, they don't remember.
My daughters had really become strong little actors. Really good characters. I'm adding, not cutting, with those two. That's a consensus with everybody. Everything goes through a team here. When my oldest daughter auditioned, I said, let's find out if she is any good, and it's been proven on the show.
Judd Apatow has had great success sneaking his children in his shows, especially on the Netflix series Love [featuring daughter Iris].
GD: You're around it right? You gotta think the blood lines are gonna help. My wife cannot. Has no desired to touch this world and I have no desire to put her in it.
The kids started out as background or had one line. We had this big part in season four or five; my daughter was seven and we couldn't find a seven year old who could really play this little prick kid who was cute. Then we looked at ten year olds that looked seven, a common practice in the industry. I finally said to my daughter, 'Do you want to try it?' She said no at first but then picked up the script and learned it, so I said to her,  'OK, you can audition and then we'll decide."
The problem is I walked into the audition with her, which didn't look good I guess. These poor other moms and dads were like, 'Oh, great…'
Sounds like an episode from the show…
GD: I was oblivious. The two little ones were at home and I just thought ill just take her, my wife didn't know anything about the auditions, and it looked bad. She did have the best audition and she's proven herself on the show.
The little one is in that very famous 'We can all be lesbians' scene. That scene went really viral and she gets s recognized from that.
My favourite episode is the one where you're debating the agnostic kid in the class and you wind up dressing up as Jesus and even hearing confessional later. There you're clearly goofing on your own Catholic experiences teaching in Toronto at Del La Salle.
GD: I knew that inside world too. For me writing and creating, I kind of just stick to things I know. I like to stay authentic. That was a fun episode. Everybody has a different favourite. There are 86 now; it's a blur.
Is there something from the set that you plan to take with you?
GD: I think the memories are what I'll take. My kids grew up on the show. It will be an emotional final scene, final day, I'm already dreading that. A lot of my life is in the show. I started thinking of this concept from day one of stand up, '99, and trying to think what my path would be. Yeah, eight seasons but there's two pilots, there's planning it and pitching it for two years, it's been a long process. To see that it's over, it's final will be emotional for sure, but life goes on right? You try to see what's next. We ended it on our own terms which I'm proud of and CBC was very good to us.