Happy to be in The Globe and Mail this weekend thanks to an assignment from The Canadian Press. I'm in with a story on one of the biggest employers of Canadian TV talent across the country — Hallmark.
The family friendly American cable brand, owned by Crown Media, spends millions annually north of the border shooting around 70 TV-movies a year, many of them holiday themed. Many are produced in Vancouver, Kamloops and Victoria as well as in Ontario in Hamilton, North Bay, Sudbury, Parry Sound and the Sioux. They shoot a lot of Christmas movies, and they shoot most right now in the summer.
Hallmark has zigged while others in cable have zagged, steering clear of dark dramas and anti heroes and serving up a kinder, gentler view of American life. That they have found it in Canada has more to do with our lower dollar and some aggressive tax incentives than our sparkling vistas and locales, although Hallmark has been happy to turn places such as Burnaby and Pembrooke into main street, USA.
Every year at the Television Critics Association Hallmark throws an enormous and very festive gala inside a giant tent erected on the well manicured lawns of the Tournament House in Pasadena, which is basically Stately Wayne manor with college football trophies.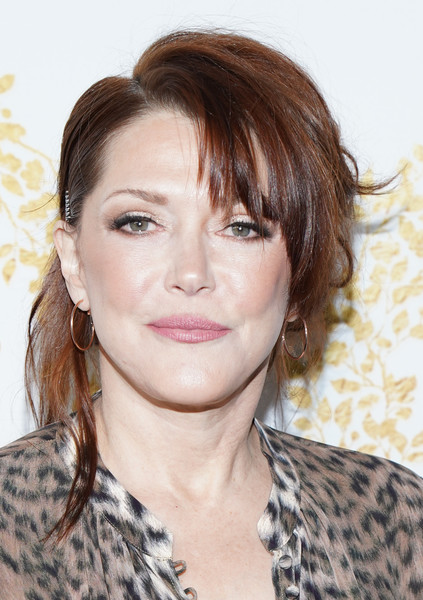 There are so many Canadians at the annual TCA Crown Media press tour gala it should be held at a hockey rink. Among the ones I ran into earlier this year were former Motive co-star Brendan Perry (a regular on Hallmark's Chesapeake Shores), Luke MacFarlane ("Just add Romance"), Colin Ferguson (a veteran of 10 Hallmark movies), Cameron Mathison ("Home & Family"), Benjamin Ayres (seen last on Canadian TV on Burden of Truth and featured on Hallmark's"Chronicle Mysteries"), former Republic of Doyle favourite Lynda Boyd ("Snow Coming"), Paul Campbell (who played opposite Dave Foley in the CTV sitcom Spun Out and does holiday movies for Hallmark such as "A Godwink's Christmas") and Montreal-native Jennifer Finnigan ("Welcome to Christmas" being her most recent Hallmark title).
Most often, Hallmark TV-movies shot in Canada will have an American cast as the No. 1 player. Americans such as Candice Cameron Burke, Treat Williams, Debbie Gibson, Wendie Malik, Kellie Martin, James Denton, Lacey Chabert and Kellie Pickler were all part of the scene last February at the Hallmark TCA party. Even 80-year-old Oscar-winner Jon Voight, who plays a very dark role in the Showtime series Ray Donavan, is a Hallmark guy, having approached them with an idea that has led to a regular association.
Read what the Canadians have to say about earning the Hallmark seal of approval. It's a distinction that gets them invited over and over again as part of the wholesome fare that is catnip to millions of viewers, primarily women, across North America — especially at Christmastime.