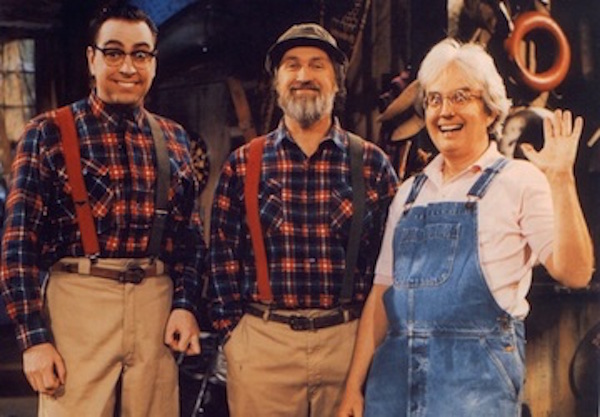 A quick program note: hat's off to ET Canada for turning this week into Reunion Week.
It's a simple idea and one perfectly suited to today's desire for some TV comfort food: reunite the stars of old TV shows and bring viewers up to date on where are they now. While American television has never been shy about celebrating its past (such as that salute just last month to Happy Days co-creator Garry Marshall), the fresh twist here is that the spotlight is for once on vintage Canadian TV shows.
From Monday through Friday, a different Canadian series from the '90s and early 2000's will be showcased. Things kick off tonight with Ready or Not stars Lani Billard and Laura Bertram returning to talk about their years spent playing best friends Busy and Amanda. It's their first get together since their teen drama ended in 1997.
The fun continues Tuesday as cast members of the shot-in-Toronto soap Train 48 talk about their series, which ran on Global from 2003 to 2008. Two of the most famous alumni, Paul Sun-Hyung Lee from Kim's Convenience and Allana Harkin from Full Frontal with Samantha Bee, will engage in commuter chat.
The teen drama Falcom Beach (above) began as a TV-movie in 2006. Two shot-in-Manitoba seasons followed. Find out what happened to the cast on Wednesday's ET Canada.
The Red Green Show, featured Thursday, had an amazing, 15-year run on various channels, including Hamilton's CHCH and PBS. Here was a TV comedy truly held together by duct tape. Red himself, a.k.a. Steve Smith, used to tell PBS viewers during pledge week that, if they liked his show, send money. If they didn't like it, send more money to PBS "so they can buy a better show."
Things wind up Friday with a salute to North of 60, which was shot in Alberta and ran from 1992 to 1997 on CBC. The story about an indigenous, sub-arctic community continued after that in several TV-movies. Tina Keeper and Tom Jackson (Corner Gas) will be among Friday's returning stars.
The ET Canada Reunion Week airs Monday to Friday at 7:30 p.m. ET/7 p.m. PT on Global. Also look for full episodes of many of these shows — free and on-demand — on the all-Canadian YouTube Encore+ channel.