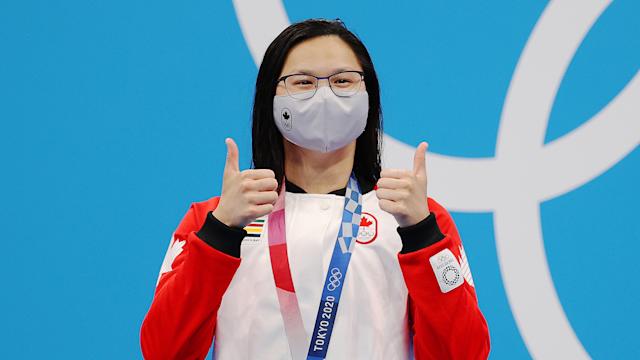 In TV ratings totals, the first week of CBC's Summer Olympic Games coverage took the gold medal in Numeris' weekly Top-30 program rankings.
In terms of average minute audience date, CBC's week-long, prime time average of close to 1.4 million viewers included repeats of several medal-winning highlights. Thay included Maggie Mac Neil (pictured above) and Penny Oleksiak's heroics in the pool and replays of other women's relay team highlights.
Globa's three Big Brother simulcasts, another Top-5 finish for scripted original Private Eyes and three CTV newscasts joined syndicated favourite Jeopardy — boosted that week by guest host LeVar Burton — in the Top-10.
Tokyo 2020 Primetime (CBC) MTWTFSS 1,387,000
CTV Evening News (CTV) MTWTF 1,337,000
CTV Evening News Weekend (CTV) SS 1,040,000
Big Brother (Global) Wed 1,040,000
Private Eyes (Global) Thurs 983,000
CTV National News (CTV) MTWTFSS 918,000
Big Brother (Global) Sun 877m000
Big Brother (Global) Thurs 860,000
Tokyo Late Prime (CBC) MTWTFSS 855,000
Jeopardy (ACCESS indieNET+) MTWTF 651,000
W Network's Good Witch came next in 11th place with 649,000 viewers.
CBC saw the Games vault into two more spots in the Top-30 with a 14th place for their Daytime coverage (averaging 614,000 viewers over seven days) and 29th place for their morning reports (a 451,000 seven-day average).
The one other sports result in the Top-30 was Blue Jays baseball batting 15th after averaging 612,000 viewers over six games that week.
There were nine newscasts on the list, as well as Top-30 finishes for long-running newsmagazines W5 (20th with 544,000 CTV viewers) and 60 Minutes (30th with 448,000 Global viewers).