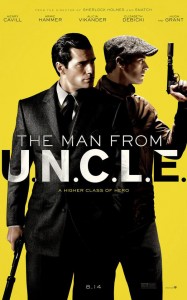 David Bianculli and the gang over at TV Worth Watching told me to go see a movie. The catch was they wanted a review right away. The movie? A TV series makeover, of course–"The Man from U.N.C.L.E."
I guess Bianculli knew I had a Johnny 7 spy gun when I was a kid. The original Man from U.N.C.L.E. TV series was a mid-'60s Must See.
The Guy Ritchie thriller opened Friday and blared on one of the big screens patrons are tricked into paying extra for at Brampton's Trinity Mall Cineplex.
I'd give the film three spy guns out of four. Ritchie directs with his usual verve and the car chases are all that.
I'm hoping the Owen Sound Drive-In puts this on a double bill with "Ant-Man" so I can go see "U.N.C.L.E." and "Ant."
Henry Cavill and Armie Hammer work as Solo and Kuryakin. Hard to top the originals, however, especially ageless wonder David McCallum who played the Soviet spy. The great Scott–about to start his 14th season on NCIS–was autographing an original tin Man from U.N.C.L.E. lunch box when I caught up with him at a CBS press tour party last summer.
One actor I forgot to mention in my movie review is Jared Harris, who made such a spectacular exit from Mad Men a few seasons ago. Harris bulls into his role as a senior agent and then is never heard from again. Her makes the most of his few minutes, but I wanted to see more of him.
You can read my full TVWW review here.