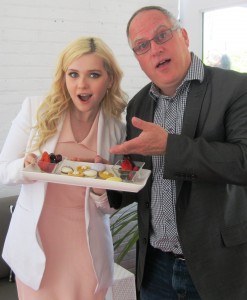 Three new network shows premiere Tuesday along with new episodes of some old favourites:
NCIS is back, with Jon Cryer guest starring as a surgeon. So Gibbs is in good hands then (gulp). Starts at 8 p.m. ET on CBS/Global.
Also at 8 is the two-hour premiere of the new Ryan Murphy series Scream Queens (Fox, City). It seemed to me as if Murphy and fellow executive producer Brad Falchuk had tried to mash the appeal of Glee and American Horror Story. The result is pretty mixed and I found long stretches of Scream Queens a bloody bore. Too much bitch talk among the mean girls at the centre of the sorority-girls-in-danger story, including house princess Emma Roberts. Too much creepy violence.
Jamie Lee Curtis was fun as a flinty college Dean. There are a few juicy cameos in the uneven pilot, including some welcome cheaplaffs from Niecy Nash as a jittery cop. Maybe the tone will register with the 18-49-year-old "Scary Movie" fans Fox hopes tune in (the series is well placed opposite CBS's boomer catnip NCIS).
Me, I was especially disappointed after meeting the delightful Abigail Breslin in Toronto in June at the Rogers/City upfront. At 19 the former child star just sparkles. Scream Queens, like AHS, is designed as a 13-episode annual anthology so look for cast members to get bumped off every week. This will release young Abigail and some smart comedy creator should build a whole Mindy Project around her.
In the meantime, she's thrilled to be working with Murphy (she wishes he could write all her texts to boys) and is loving working in New Orleans. For More on Breslin, check out this Q&A I wrote for Hello! Canada magazine.
Also premiering Tuesday at 8: The Muppets (ABC; City pre-released it out of simulcast on Monday), which is a lot of felt and not enough feeling, and two more hours of The Voice (NBC). ABC brings back Fresh Off the Boat at 8:30 (also on shomi).
Tell your mom that NCIS: New Orleans returns at 9. Then the new series Limitless premieres at 10 p.m. on CBS and Global. Jake McDorman stars as Not Bradley Cooper. Cooper, who starred in the 2011 film, is a producer and has a cameo in the pilot that's been part of every preview clip. The show is about McDorman's character, who takes a pill and becomes so smart the FBI want him on their side. That's not even the hardest thing to swallow about Limitless. Says USA Today's Robert Bianco: "Well, they got the 'less' part right."