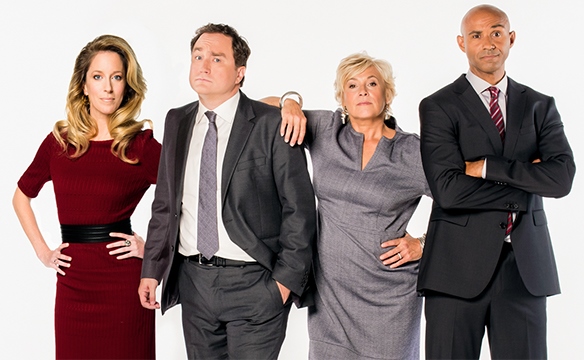 Yikes.
Tuesday night, This Hour Has 22 Minutes returned for its 26th season to 367,ooo estimated, overnight viewers.
While numbers were counted in some screwy ways back when 22 Minutes began, I'm going to go out on a fairly sturdy limb and suggest that is the series' lowest-rated season premiere ever.
That number is about half of what 22 Minutes has averaged over the past few years. Now, perhaps another 367,000 streamed the series, or the total viewing audience will add up to 700,000+ over the next seven days. On the old, overnight, national broadcast scale, however, that's Brampton in the '90s low.
Did all the Shaun Majumder fans turn elsewhere for their laffs? CTV ran seven Big Bang Theory repeats Tuesday night. Even they didn't score so well, however, drawing in the six or seven hundred thousand range.
CBC opened their Tuesday night schedule with the season premiere of Still Standing. The Jonny Harris cross-country laffer came in at 499,000 in the overnights. That's almost respectable nowadays; half million is the new million in broadcast.
Me, I would have put the established show, 22 Minutes, at 8 as the anchor, followed by Still Standing. This is the first time in 16 seasons 22 Minutes did not have Rick Mercer for a lead-in, and if it's going to sink or swim this season anyway, make it the lead-in.
A more alarming blow came at 9 p.m. with the season premiere of the CBC comedy that has gotten the best notices in the past few years: Baroness Von Sketch Show. That series limped back to 194,000 viewers across Canada. Whoa. Barren-ness Von Skip Show.
Something called Hang Ups at 9:30 drew 173,000. No joke.
Where this all really hurts: The National crawled in at 459,000 at 10 p.m. and 402,000 at 10:30.
Again, wait for the +7 totals to lift those numbers and factor in the streamers. However:
The TV season really hasn't started yet, so it's not going to get any easier for CBC on Tuesdays. Global had dickie-doo on this week, but next week, watch out. Same with CTV. The big draw this Tuesday night was America's Got Talent on Citytv with close to 1.2 million overnight viewers. Blue Jay games on Sportsnet, a major factor a few Septembers ago, are striking out.
The solution? Commission a new CBC Tuesday night comedy starring Shaun Majumder and Rick Mercer? CBC would have to get in line.
In the meantime, 22 Minutes will have to muster a much better creative effort than Tuesday's return. Mark Critch threw himself into a fairly convincing Doug Ford impression — for two-and-a-half minutes. That's too long to listen to somebody shout, "Notwithstanding clause!"
If Majumder wanted to assemble a reel of sketches to prove that this series had lost its way, he had only to use Tuesday's opener. A bit featuring Critch taking target practice with pistol-packin' Calgary MP Michelle Rempel was a glaring misfire. Young Toronto correspondent Ann Pornell tried in vain to get visitors in Nathan Phillips Square to say funny things about Doug Ford. All that streeter sketch did was really make viewers miss Majumder.
He was also missed as the final credits rolled. Remarkably, original cast member Cathy Jones still conveys that mad spark after 26 seasons. Critch, who seemed to be in every sketch, just looked exhausted. Trent McClellan looked confused. Susan Kent — sitting in a wheelchair, her leg in a cast — looked pained.
It had to be hard for this cast to get up for this show when they probably felt like they'd been punched in the gut, but folks, find a way to at least look like you're having fun. In the old days, they all would have had casts on, as well as mustaches and plaid shirts. Break a few more legs, 22 Minutes.