This year, Remembrance Day marks 100 years since the end of the Great War of 1914-1918. Sunday, poppies will be worn and Canadians will brave the cold to stand before cenotaphs from coast-to-coast.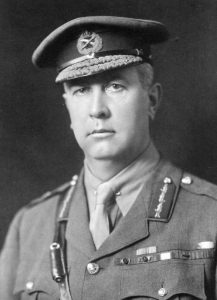 While most know of the war and are aware Canada was on the winning side, for many, the details are but faded, school-age memories. There is a vague notion today that this was a war in which a young nation was called to serve and did so with distinction, especially in French and Belgian towns and battlefields with names chiseled into memorials: Ypres, Passchendaele, Vimy Ridge, Amiens and Mons.
Helping to put the critical, final days of the war in perspective is "100 Days to Victory," a new, four-hour, two-part documentary premiering Sunday, Nov. 11 on History. Shot entirely in Ontario (mainly in and around Hamilton), the Canada-Australia co-production tells the story of how five allied generals, including Canadian Arthur Currie (above), planned and executed a swift path to victory that led to the armistice — no matter, say some historians, — the cost in human lives.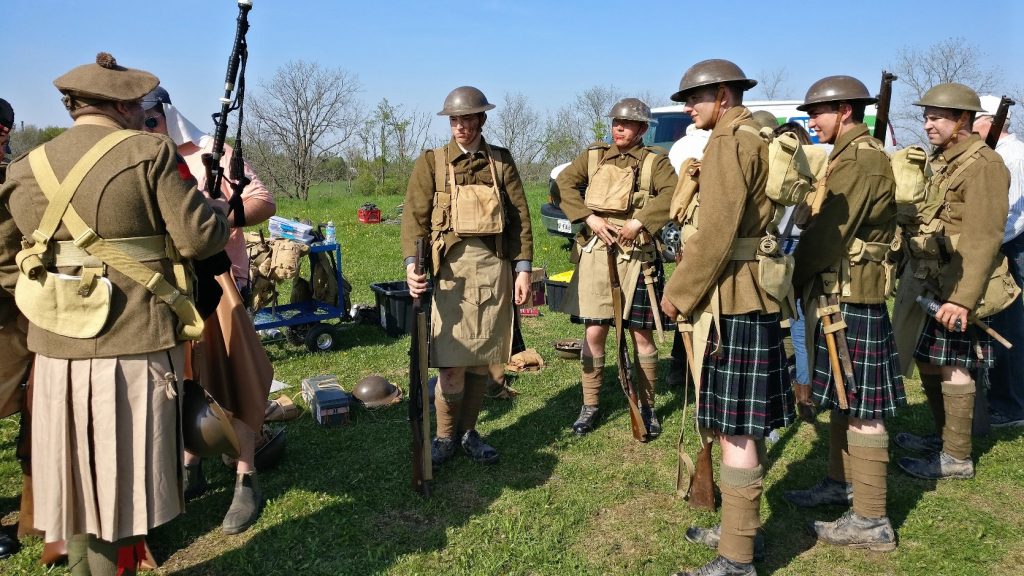 I was invited out to battlefield scenes that were shot near Hamilton last May. Deep trenches were dug in a farmer's field and several extras wore WWI infantry uniforms, many borrowed from historical re-enactment groups. A replica of a tank — made mostly out of plywood — also stood on the field, as did several pipers. Crews tested smoke machines and fired off carefully-placed explosive devices.
Watching over it all was historian Andrew Theobald, one of several who worked on the project. I noted how a few of the extras were smoking pipes in the trenches. Would that have been allowed, I asked? You bet, he said. "It was an anxious place to work."
Out standing in the field (in both senses of the term) was former CBC broadcast executive Julie Bristow. Her company, Bristow Global Media, co-produced the documentary along with Perth-based Electric Pictures. Bristow, who specialized in programming unscripted fare while at CBC, was previously behind the re-enactment documentary "Canada: The Story of Us."
I ran into Bristow again just last month in Cannes where she was busy shopping projects at the international TV marketplace MIPCOM. Bristow suggested that "100 Days to Victory" was not only a great story about these somewhat forgotten allied generals but that it was also the perfect co-production project. "We shot the whole thing in Canada and did all the post-production in Australia," she says. That worked surprisingly well, in this case, because of the time difference. "It's 12 hours exactly, allowing us to work 24 hour days. We were on a true international schedule where we were able to just keep everything moving."
Bristow also says international deals generally mean bigger budgets, and bigger budgets should lead to better projects. This budget, she says, amounted to $1.3 million per hour. "That kind of premium factual content is a space that we really like to be in. I feel you really need to be building that kind of content in this global environment to break through everything else that's out there."
Being a former broadcast executive can be an advantage when it comes to being flexible and putting these kind of deals together, she feels. "There are often times when I can still think like a buyer when I'm pitching so there are moments when I can anticipate some of the needs that a buyer might have that somebody who's only been on the producing side may not be able to see in that moment." Bristow says having the two perspectives also prevents her from getting "too precious about the ideas, so if they're not getting any traction, we move on."
Bristow moves from the horrors of war to a different kind of horror story with her next project, Haunted Hospital. The paranormal series focuses on men and women who work at a various medical facilities, including hospitals and nursing homes. "It's told by people who are not necessarily paranormal fanatics but, in their line of duty, experiences have happened," says Bristow. Experts are then brought in to 'unpack what paranormal really is."
Twenty-six half-hour episodes are in development. Whether Bristow will be able to watch them all is another matter. "I have to say I'm a 'fraidy cat and when I screen it, I'm really scared."