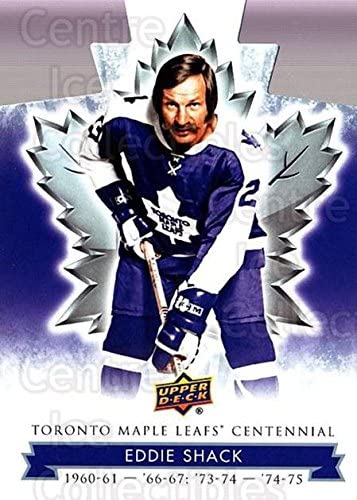 When I was a young lad, the Toronto Maple Leafs won the Stanley Cup so often it was boring. One player who was never boring, however, was Eddie Shack.
Maybe you've heard of him. He could score goals, he had the knack. He also had a nose for value. He was more animated than Peter Puck and even more of a cartoon character.
He was also a three time NHL All-Star and had four Stanley Cup rings. Not bad for a a player often dismissed as a "third line agitator."
Shack showed he had the hands in 1965-66, scoring 26 goals alongside Bob Pullford and Ron Ellis. That was the year "Clear the Track, Here Comes Shack," performed by Douglas Rankine and The Secrets, was a legitimate chart topper in Canada.
Could the Leafs have won those cups without Shack? It's tempting to say yes but he was a tall guy (6-foot-1) on a short team, was always ready to drop them and had everybody's back. To viewers at home, he stole every intermission segment opposite Ward Cornell on Hockey Night in Canada. He really was The Entertainer.
Fact is, whether it was ice hockey or ball hockey, most kids pulled sweaters with number 9 or 4 or, in Toronto, No. 14 on their backs. Those wearing No. 23 ended up as carneys or TV critics.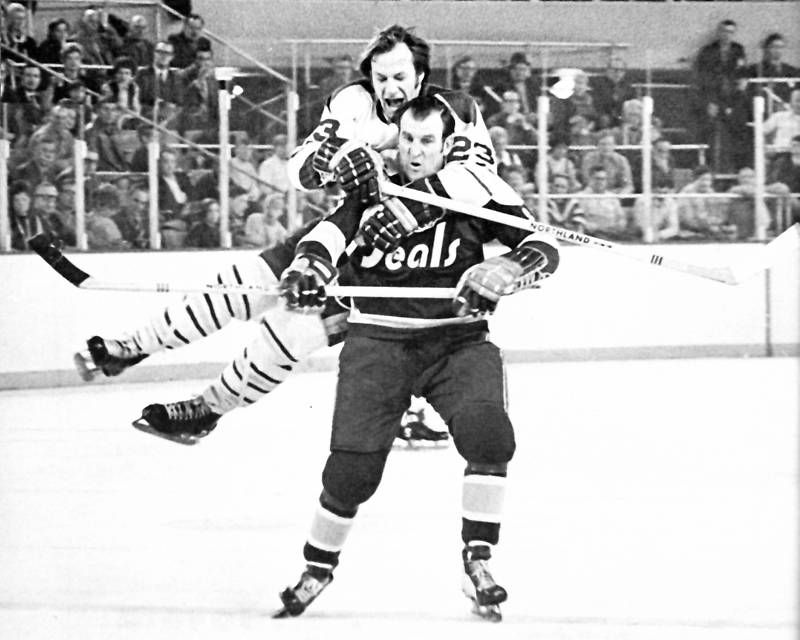 After the Leafs, Shack played with several other teams, including the Buffalo Sabres. The famous photo of Shack — jumping on the back of Gerry Ehman from the Oakland Seals (above) — isn't exactly as majestic as Bobby Orr flying through the air after scoring the winning goal in the 1970 Stanley Cup. It does, however, sum up everything that was wonderful about No. 23. He loved hockey and wasn't afraid to pull an all-star wrestling move to show it.
My uncle Norm Brioux, a stock car champion since deceased, had a farm north of Toronto in the late '60s and a few Leafs lived in the neighbourhood. According to my cousin Norm Jr., Shack and a few other Leafs, including Ron Ellis, would lace up for the odd game of shinny on a pond on the property. "He was a great guy, a real honest, upstanding man," says Norm, young at the time but old enough to fetch the odd brewski for the Leaf left winger. Shack eventually bought a neighbouring farm and opened a golf course in the area. He also had a donut shop in Caledon (now a Tim Hortons).
Toward the end of his career, the Sudbury native was better known for his Pop Shoppe TV commercials. That's where he grinned, leaned into the camera like a used car salesman and bragged about having "a nose for value." One winter I happened upon him in downtown Toronto, on Bay Street I think, selling Christmas trees. That was Argo crazy! Who wouldn't want an Eddie Shack Christmas tree?
Twenty-three years ago, through an association at TV Guide, I was asked by former Leaf and New York Ranger forward Pat Hickey to emcee a Ranger alumni golf tournament in Nobleton, Ont. Shack actually broke into the NHL with New York before becoming a Leaf in '61. That tourney featured Andy Bathgate, Marcel Dionne, Brad Park, Vic Hadfield and several other NHL Hall of Famers. Various companies donated to the cause and, in return, a foursome of employees got to play a round with the greats.
Which foursome had the most fun that afternoon? You had to clear a track to get out of the way of Shack, sporting his feathered cowboy hat and handlebar moustache. He went careening across the greens in a golf cart with his little doggie — Stanley?– in a carrier in the front and a cooler or five of liquid refreshments in the back. The man was "Animal House" with a hockey stick.
Despite a robust, Keith Richards approach to life, Shack lived to reach the ripe old age of 83 before passing away Friday in Toronto after being diagnosed with cancer. Not quite as long a life as Hollywood legend Olivia de Havilland, who died the same day at 104, but then again, she never won even a single Stanley Cup.
Condolences to Shack's family and friends and all the kids who watched No. 23 play and thought, maybe, just maybe, they could someday be an entertainer too.