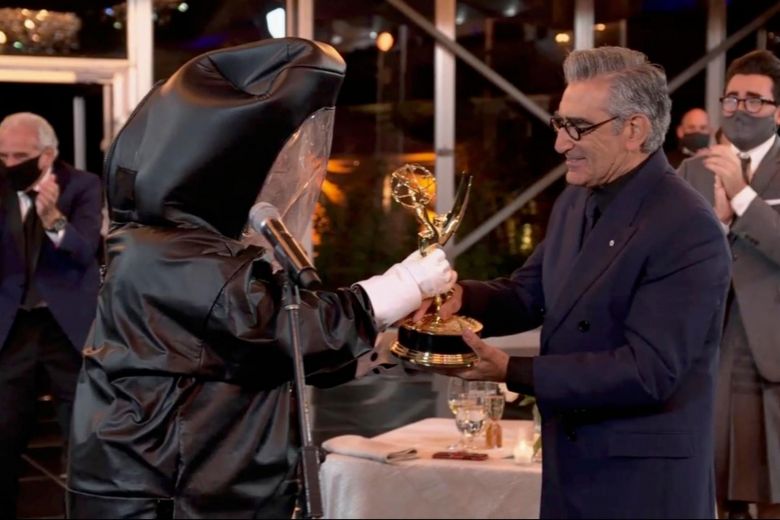 No Schitts, Sherlock: the 72nd Annual Primetime Emmy Awards was a much bigger hit in Canada than in the US.
Overnight estimates Sunday show CTV drew 1,584,000 for the three-hour "PandEmmy" broadcast, making it by far the top draw of the night in Canada. On CTV alone, The Emmys drew three times the audience Sunday than the two afternoon NFL games; CTV drew 530,000 for the 1 p.m. ET game and 537,000 for the 4 p.m. ET late afternoon tilt in those same overnight estimates.
In America, on ABC, The Emmys sank to its lowest audience tally ever, dropping under six million viewers for the first hour and sliding under five as the show went into hours two and three. The virtual trophy special trailed football on NBC in the States and even 60 Minutes in some demos. Last year's Emmys averaged 6.9 million viewers stateside — and that was a record low.
There are many reasons for the decline of the Emmy audience on US broadcasters. For one thing, why ABC or any of the traditional networks still carry this show puzzles me. It is basically a three hour+ infomercial for cable and streaming services. Even Schitt's Creek was far off most of America's radar as it airs there on Pop TV, a fast-rising cable alternative but still not exactly CBS (whose parent company recently bought Pop).
So many other awards were handed out to Succession and other HBO shows, as well as programs featured on Netflix and other streamers. When Sterling K. Brown came out at the end to joke that NBC's This Is Us was robbed, his joke (which fell flat) was that no network series ever wins anymore at The Emmys.
On the other hand, Schitt's Creek airs on a major network in Canada, CBC, so most of the audience has had at least a glimpse of it over six seasons. As a result, Canada drew close to three times the number of viewers, proportionally, as The Emmys did in the States.
In other ratings news, a look at the Sept. 7 to Sept. 13 Live+7 totals shows that The Toronto Raptors finak playoff push was the No. 1 draw in Canada for the week. The averge audience for two games carried by TSN scored 1,957,000 viewers to occupy the No. 1 spot. At No. 2 was a single Raptors game carried that week by Sportsnet National with 1,615,000 total viewers.
No. 3 for the week was CTV Evening News (M-F) with 1,309,000 total viewers.
No. 4 was the Sunday episode of Global's Big Brother at 1,284,000. The CTV Evening News Weekend Edition took 5th spot with 1,170,000 and that was followed by another edition of Big Brother, with 1,157,000 watching Wednesday. Global scored with that same show again in 7th spot with another 1,138,000 tuning in Thursday.
A special introductory edition of the new season of The Masked Singer drew 1,054,000 to CTV Sunday for 8th spot. That was followed by two episodes of America's Got Talent on Citytv, 1,005,000 ranking it ninth on Tuesday and 978,000 ranking it 10th on Wednesday.
Numeris breaks out the Sportsnet Ontario tally for the Wednesday Raptor's NBA playoff game as the 12th most-watched show in English Canada that week; they show it drawing 912,000 viewers on Sportsnet Ont. alone. In other words, most Canadians watching the Toronto team on Sportsnet that night live in Ontario. Got it.
Basketball outdrew the return of NFL football that same week in Canada. The combined audience on three Bell platforms — CTV, CTV2 and TSN — came to 907,000 fans for the Early (1 p.m. ET) game and 813,000 for the late (4 p.m.) Sunday afternoon broadcasts, good enough for 13th and 14th spots on the week's Top-30 list.
Not on the list at all: a single NHL Stanley Cup playoff game. The NHL on Sportsnet, however, is at a ranking disadvantage, in my opinion, in that the TV audience for all the games played in the same round that week are averaged. Games of lesser regional interest tend to drag the overall averages down.
With no Canadian teams left in the tourney, however, it is unlikely that summer (now fall) NHL playoff hockey will crack the Canadian Top-30 through to the end of the Stanley Cup final. Take a Round 3 game shown Sunday, Sept. 13 on Sportsnet National between the Tampa Bay Lightning and the New York islanders. Total audience: 300,000.
For a lot of Canadians, it seems, the Stanley Cup race is already over for another year.