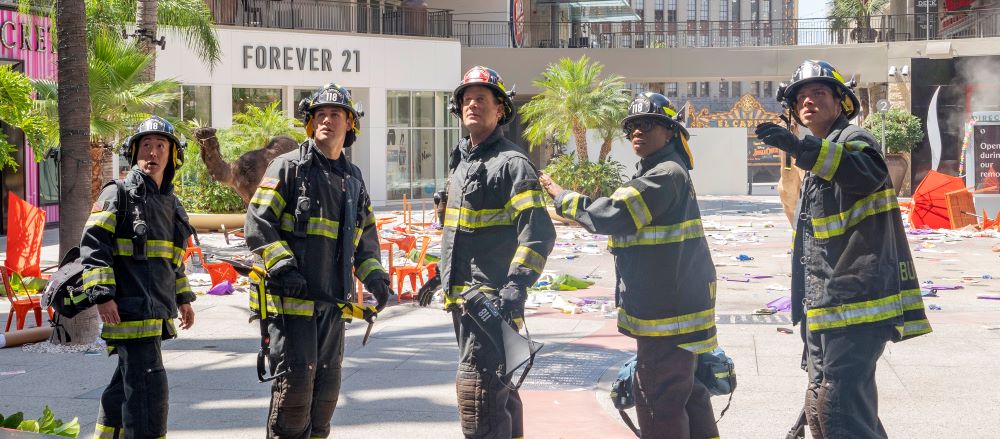 For the third week in a row, viewers in English Canada made 9-1-1 their favourite TV series of the week.
The imported first responder drama drew 1,865,000 viewers to top the list of 30 most-watched shows October 11-17 among total viewers according to Numeris. It was followed by three other usual suspects imported by Global: NCIS, CSI: Vegas and Survivor.
In 2+ totals, Global had four of the Top five; six of the Top-10; and 13 of the Top-30. CTV also had 13 of the Top-30, with Sportsnet National and Citytv each having two shows on the 30 list.
Here's how the Top-10 ranked in average minute audience, ages 2+ totals:
9-1-1 (Global) Mon 1,865,000
NCIS (Global) Mon 1,736,000
CSI: Vegas (Global) Wed 1,709,000
Survivor (Global) Wed 1,701,000
The Good Doctor (CTV) Mon 1,675,000
The Rookie (CTV) Sun 1,667,000
Blue Bloods (CTV) Fri 1,573,000
FBI (Global) Tues 1,534,000
NCIS: Hawai'i (Mon 1,398,000
CTV Evening News (CTV) MTWTF 1,377,000
Other rankings of note: the Toronto Maple Leafs drew 1,272,000 for a Wednesday NHL game on Sportsnet National, good enough for 14th place. The Masked Singer on CTV was again at No. 15 with 1,258,000. Citytv's top draw was Chicago Fire in 18th spot with 1,162,000. Rookie import Ghost was at 20th with 1,150,000 Global viewers. Top sitcom was The Conners wth 1,105,000 watching Wednesday on CTV. In 25th across Canada was Saturday Night Live with 1,035,000 on Global. Hosted that week by Rami Malek, SNL ranked 10th on the Toronto-Hamilton chart.
Once again, no CBC shows, no Canadian scripted originals among the 30 most-watched TV programs in English Canada.