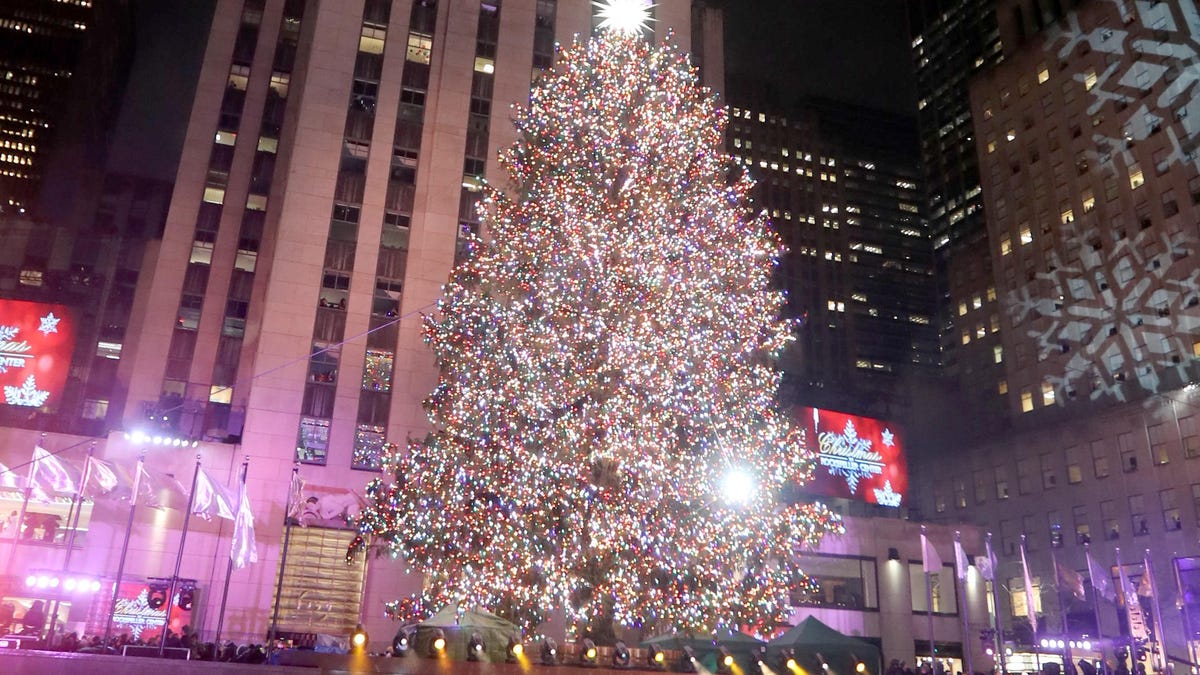 There is a ton of holiday programming, of course, but many less-festive specials, series and movies are also premiering throughout December. Please check back often and information coms in and this calendar page gets updated. ALSO: Take advantage of free previews going on all month for brioux.tv sponsors Hollywood Suite and Super Channel. Both all-Canadian streaming services offer plenty of holiday program, available on-demand, straight through till 2022. UPDATED Dec.13.
WED/DEC. 1
89th Annual Christmas in Rockefeller Center (NBC). A 79-foot Norway Spruce get lit up in NYC in the annual tree killing.
Adrienne (HBO, Crave). This documentary looks at the late director Adrienne Shelly ("Waitress"), who was murdered at the start of a promising career. Directed by her husband, Andy Ostroy.
"A Christmas Letter" (CBC). Leslie (Glenda Braganza) has done everything right in her life except find Mr. Right. That is… until the spirit of Christmas leads her there in an unusual way. This Canadian premiere also airs Dec. 2 and Dec. 24.
The Power of the Dog (Netflix). A cranky rancher goons on his brother's new wife and her teenage son in this new movie from director Jane Campion. Benedict Cumberbatch and Kristen Dunst star.
Kelly Clarkson Presents: When Christmas Comes Around (NBC). Music special.
Zoey's Extraordinary Christmas (Roku). This spin-off special from the short-lived NBC series Zoey's Extraordinary Playlist could lead to a revival of the series.
THURS/DEC. 2
Annie Live! (NBC). The annual Broadway to TV musical event stars Taraji P. Henson, Harry Connick Jr., Tituss Burgess and Megan Hilty along with newcomer Celina Smith in the lead roll as Little Orphan Annie.
Baking It (Pacock). Maya Rudolph and Andy Samberg host this new baking competition series from Amy Poehler and the producers of Making It. Teams pf amateur contestants are featured.
Listening to Kenny G (HBO; Crave). This new HBO "Music Box" documentary looks at the jazz saxophonist but also at why as many people hate him as buy his records. From director Penny Lane and a hit last September at TIFF.
Santa Inc. (HBO Max; Crave). Don't let the stop-motion animation fool you — this is not your parent's holiday special. Sarah Silverman voices a potty-mouth elf who is a vice-president at the North Pole but aspires to be the first female Santa. Seth Rogan (as the current Santa) is the white man in her way. Maria Bamford, Craig Robinson, Gabourey Sidibe and others lend voice. Eight episodes drop all at once. From the creators of "Sausage Party."
FRI/DEC. 3
The Great British Baking Show: Holidays (Netflix). Some "ghosts of bakers past" are back to tackle Christmas pudding and other festive feasts.
Harlem (Prime Video). Created by Tracy Oliver (Girls Trip), this 10-episode series plays like a Black Sex and the City. Megan Good, Grace Byers, Shoniqua Shandai, Jerrie Johnson, and Tyler LePley star, with Whoopi Goldberg and Andrea Martin also part of the fun.
"Christmas Movie Magic" (Super Channel Heart & Home; airs Dec. 6 on Lifetime). Shot in and around Hamilton, Ont., this sweet little movie looks at a small town that enjoyed its Hollywood moment in the '50s when a movie star came to shoot a movie. Hear director Robert Vaughn on the making of this film in an upcoming episode of brioux.tv the podcast.
"Cape Cod Christmas" (CBC Gem). A Boston children's book author is heartbroken when she must sell the family Cape Cod home. Why — it must be worth zillions! Canadian movie premiere.
Mariah's Christmas: The Magic Continues (AppleTV+). Mariah Carey rings in the holidays with a new rendition of , "Christmas (Baby Please Come Home)" plus her best-seller, "All I Want For Christmas Is You." Plus you get to see her kids.
Silent Night (AMC+). A holiday horror black comedy featuring Keira Knightley, Matthew Goode and Roman Griffin Davis as they welcome friends and family for Christmas dinner — right before a toxic poison wipes out the world. It's a Wonderful Death!
Returning: PEN15 (Hulu).
SAT/DEC. 4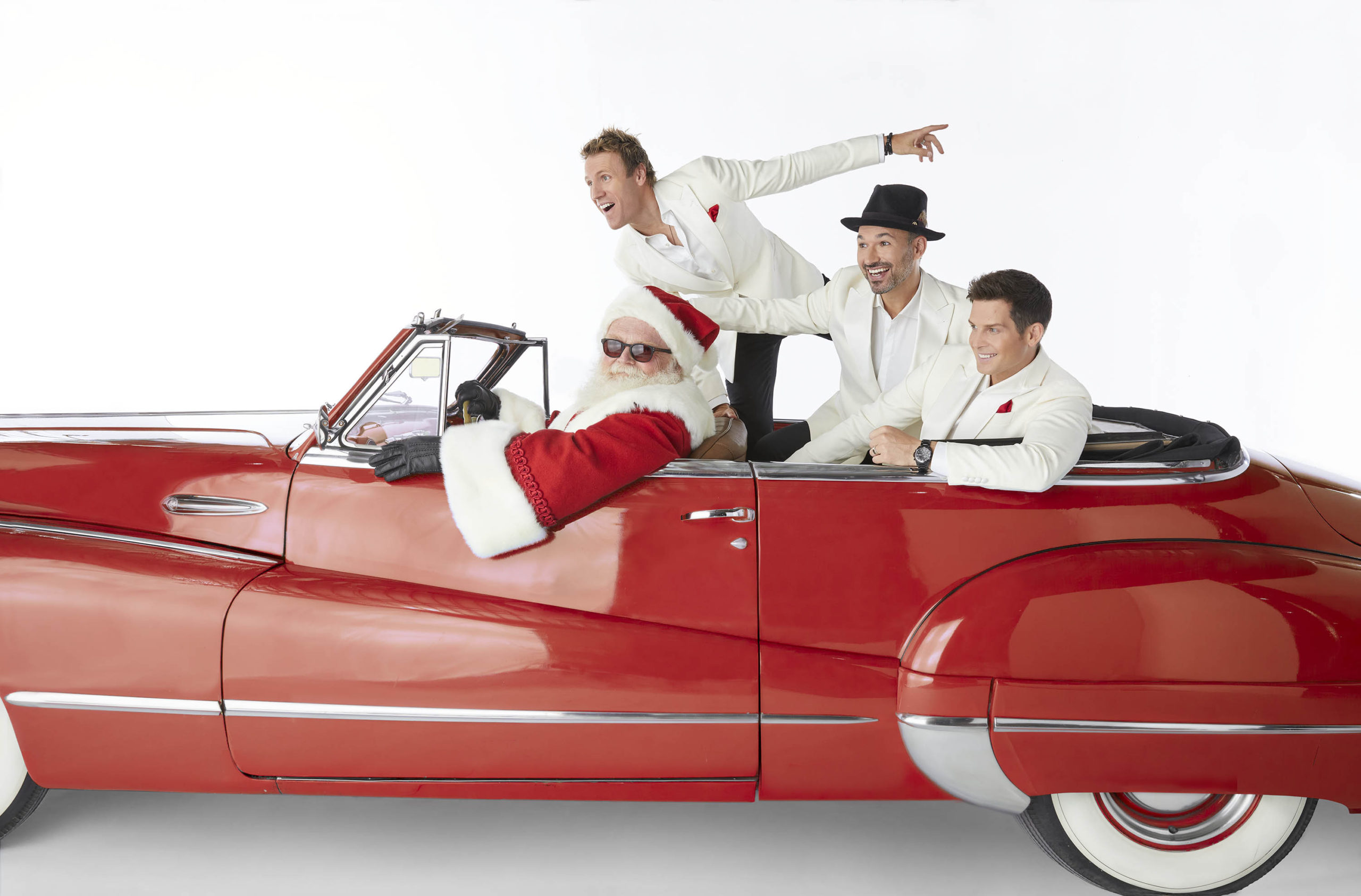 The Original Santa Claus Parade (CTV, CTV2, CP24). Melissa Grelo, Kelsey McEwan and Tyrone Edwards host the 117th (and still socially distanced at Canada's Wonderland) edition. Guest performances from Carrie Underwood, Ed Sheeran, Pentatonix and Tyler Shaw featuring The Tenors. Look for 24 floats, marching bands and the always-popular celebrity clowns.
Drew Michael: Red, Blue, Green (HBO). Stand up comedy special.
A Clüsterfünke Christmas (Comedy Central). Ex-SNLers Ana Gasteyer and Rachel Dratch head up (or rip off) Schitt's Creek as they write and star in this movie about cityslickers who move to a small town with a dirty name in order to run an Inn.
SUN/DEC. 5
Frosty the Snowman and Frosty Returns (CBC). The 1969 Rankin-Bass animated special (and a 1992 re-do). The first features the voice of comdian Jackie Vernon as Frosty as well as Jimmy Durante in his final role as narrator. John Goodman talks for Frosty in the second half hour special.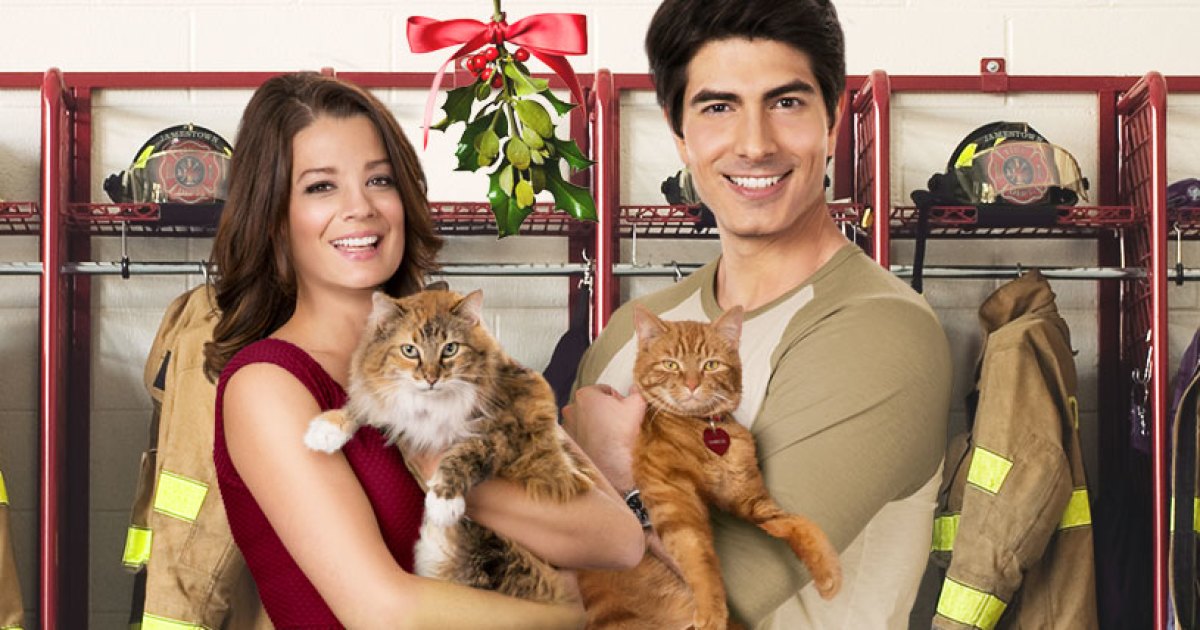 "The Nine Kittens of Christmas" (W Network). Hear director David Winning on shooting this holiday movie for Hallmark, starring Kimberley Sustad and Brandon Routh, on this recent episode of brioux.tv the podcast.
23rd Annual A Home for the Holidays (CBS). Adoption special.
The National Christmas Tree Lighting (CBS). This is a TV special?
Something's Coming: West Side Story (ABC). A special about the making of Stephen Spielberg's remake of the classic musical.
MON/DEC. 6
The Forever Prisoner (HBO; Crave). This documentary, from Alex Gibney, looks at an al-Qaeda operative imprisoned for 20 years at Guantanamo Bay who was allegedly tortured and never charged with any crime.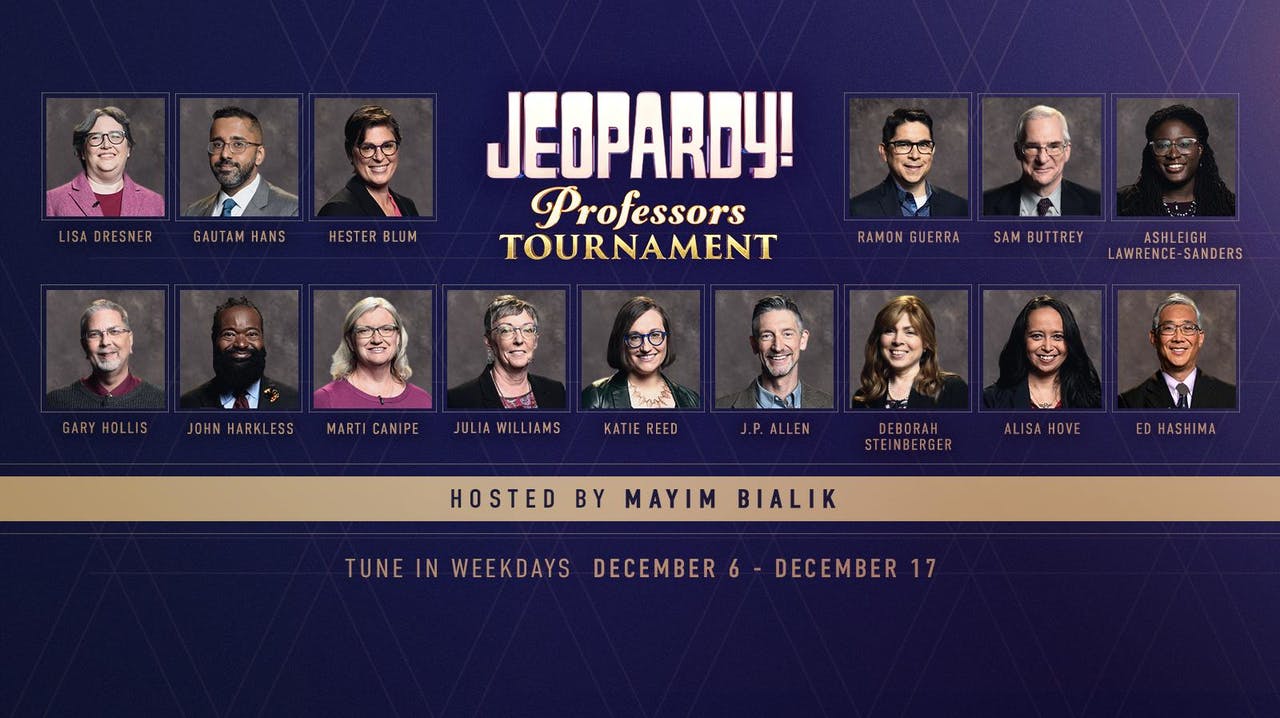 Jeopardy! Professors Tournament (ABC). Who wins $100,000? That's the question in this first ever tourney just for university professors. Mayim Bialik hosts. The primetime tourney runs through Dec. 17.
Landscapers (HBO; Crave). Olivia Coleman and David Thewlis star in this four-part crime drama about a married couple who bcome suspects after two bodies are discovered in their backyard. The British drama is based on a true story. Episodes air weekly.
"A Christmas Family Reunion" (CBC). Event planner Amy takes on a family reunion for a rising pop star and it turns into O Holy Hell. Canadian premiere.
Michael Bublé's Christmas in the City (NBC; CTV). Look for plenty of those soda drink ads.
A Very Boy Band Holiday (ABC).
VOIR (Netflix). A six-episode collection of visual essays about cinema, with David Fincher among the producers.
TUES/DEC. 7
People's Choice Awards (NBC). The people choose not to watch award shows anymore (end of series).
Abbott Elementary (ABC). Sneak peek at a workplace comedy set at a Philadelphia public school. From A Black Lady Sketch Show's Quinta Brunson. Resumes Jan. 4.
Live in Front of a Studio Audience: "The Facts of Life" and "Diff'rent Strokes' (ABC). Jimmy Kimmel returns with two more Norman Lear classics re-mounted with modern, All-Star casts. Look for John Lithgow (Mr. Drummond) and Kevin Hart (Arnold) in "Strokes" and Jennifer Aniston, Kathryn Hahn and Gabrielle Union in "Facts."
Nicole Byer: BBW (Big Beautiful Weirdo) (Netflix). Stand-up comedy special.
WED/DEC. 8
Dr. Pimple Popper: A Pimple Carol (TLC). What zit about? It's about how Christmas has come to this.
"Miracle on 34th Street" (CBC) The 1947 classic, hopefully not tarted up with bad computer colourization from the '80s.
Welcome to Earth (Disney+). A six-part nature/adventure series hosted by Will Smith.
THURS/DEC. 9
And Just Like That… (HBO; Crave). The first two episodes of this Sex and the City reboot drop on this date. Executive producer Michael Patrick King is back and so is Sarah Jessica Parker, Cynthia Nixon and Kristin Davis. But is this show anything without Kim Cattrall? And hasn't the world moved on from shoe obsessions and cosmos? Chris Noth, Mario Cantone, David Eigenberg, the late Willie Garson, and Evan Handler all return. Look for the other eight episodes every Thursday.
Anne Boleyn (AMC+). A three-part historical thriller from England about a queen who lost her head. Jodie Turner-Smith, Paapa Essiedu and Mark Stanley star.
Bloods (Hulu). Samson Kayo, Jane Horrocks and Lucy Punch star in this British comedy about paramedics. Bleedin hilarious.
The Housewives of the North Pole (Peacock).
Mr. Saturday Night (HBO; Crave). This "Music Box" documentary focuses on Robert Stigwood, the Aussie impresario behind the movie and soundtrack phenomenon "Saturday Night Fever."
FRI/DEC 10
For Auld Lang Syne (AppleTV+). A new animated Peanuts special sees the gang celebrating New Year's Eve. Good grief! Do they get to stay up that late?
Saturday Morning All Star Hits (Netflix). Lightly used Saturday Night Live player Kyle Mooney is behind this eight-episode comedy series which goofs on children's TV shows from the '80s and '90s. Mooney plays several characters in this blend of live-action and animation.
The Unforgivable (Netflix). Also in theatres, this film stars Sandra Bullock as a woman just sprung from the big house after committing a violent crime. Jon Bernthal and Vincent D'Onofrio also star.
SAT/DEC. 11
Hot Mess Holiday (Comedy Central). Light the firecrackers –a seasonal movie with Diwali as the theme. Surina Jindal, Melanie Chandra, Kal Penn, Tituss Burgess, Chris Geere, and Chris Parnell star.
The Real Charlie Chaplin (Showtime). What was the world's first movie star really like? Directors Peter Middleton and James Spinney attempt to answer that question with commentary, thanks to a Life magazine interview he gave in 1966, from Chaplin himself. Many others, including actress-daughter Geraldine Chaplin, share insights into a guarded entertainer who seems both wildly charismatic and intensely private and insecure. The many months spent shooting a few scenes in "City Lights" (1931) demonstrates his obsessive and very personal filmmaking style. Also covered are the history lessons, including the Communist witch hunt accusations and personal scandals (of Chaplin's four marriages, three were to teenagers) that helped drive "The Little Tramp" from America in 1951.
Norman Rockwell Presents: Coming Home for Christmas (CTV). Gotta see how he pulls this off — he's been dead since 1978.
SUN/DEC. 12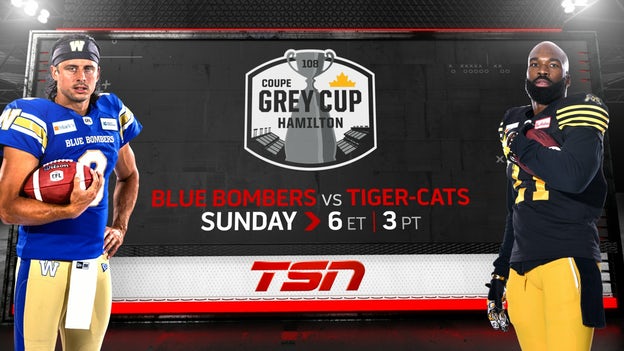 The 108th Grey Cup Championship (TSN). The Winiperg Blue Bombers tackle the Hamilton Tiger Cats, with the latter having a home field advantage as the big game is played at Hamilton's Tim Horton Field. The first Grey Cup tilt since 2019 due to the pandemic.
70th Miss Universe Competition (Fox). Didn't this used to be called a beauty pageant? What is there a relay or hurdles element now?
The Great Canadian Holiday Baking Show Season 5 (CBC, CBC Gem). Four bakers from season's past return to compete for the chance to become the Holiday Star Baker. A one hour special.
Greatest Holiday Commercials Countdown 2021 (The CW). Bonus points for being able to tell the actual commercials from the main show commercials.
"The Santa Squad" (Citytv). A 2020 film starring Aaron Ashmore as a wealthy widower searching for the true meaning of Chruistmas.
MON/DEC. 13
American Auto (NBC; Citytv). A two-episode sneak peek at a new workplace comedy officially starting January 4. Ana Gasteyer, Jon Barinholtz, Harriet Dyer, Humphrey Ker, Michael B. Washington, Tye White and X Mayo star in this Detroit-set series about workers at a major automobile company struggling to adapt to changes in the industry.
Gordon Ramsay's Road Trip: European Vacation (Fox). Reality show with the famous chef yelling at tourists in Italy, France and Scotland.
House Hunters Ho Ho Home (HGTV). A real estate agent who doubles as a Santa impersonator hosts this spinoff series, which airs every night this week. Each home comes with fully trimmed trees and festive lights.
Street Gang: How We Got to Sesame Street (HBO). This documentary, from director Marilyn Agrelo, looks at the origins of the enduring PBS children's series, which began in 1969.
TUES/DEC. 14
Rudolph the Red-nosed Reindeer (CBC). The 1964 stop-motion classic from Rankin-Bass, featuring a terrific cast of Canadian voice-over stars including the late Paul Soles as Hermy the Elf.
Gordon Ramsay's Road Trip: Christmas Vacation (Fox). Another reality outing for the hot-headed celebrity chef.
Grand Crew (NBC at 8 p.m. ET; Citytv at 7). Nicole Byer, Carl Tart, Echo Kellum, Justin Cunningham, Aaron Jennings, and Grasie Mercedes play six friends who bond at a Los Angeles wine bar. A sneak peek at a new series set to premiere on NBC Jan. 4.
WED/DEC. 15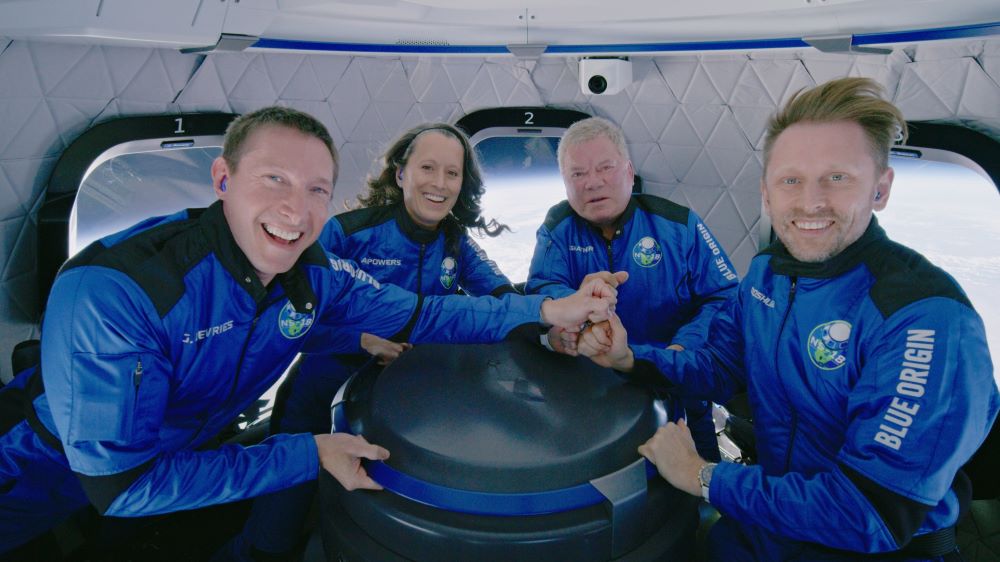 Shatner in Space (Amazon Prime Video). This past October, Star Trek skipper William Shatner boldly went into space at the invitation of Blue Origin founder Jeff Bezos. At 90, this made the Montreal-born actor the oldest person to ever travel to the cosmos. An hour-long documentary.
"Rumble" (Paramount+). An animated comedy set in a world where monster wrestling is a global sport and monsters are superstar athletes. Features the voice acting of Will Arnett, Geraldine Viswanathan, Terry Crews, Stephen A. Smith, Tony Danza, Tony Shalhoub, Bridget Everett and Charles Barkley.
Mr. Mayor (NBC, Citytv). Remember this new sitcom starring Ted Danson as a mayor when it bowed late last season? Neither do I. but it is back with a spcial Christmas episode bfore an official return early in 2022.
THURS/DEC. 16
Days of Our Lives: A Very Salem Christmas (Peacock). A former soap returns as a TV-movie.
Dogs of the Year (The CW). Just what it says.
Juice WRLD: Into the Abyss (HBO Max). A documentary about the late Chicago rapper from director Tommy Oliver.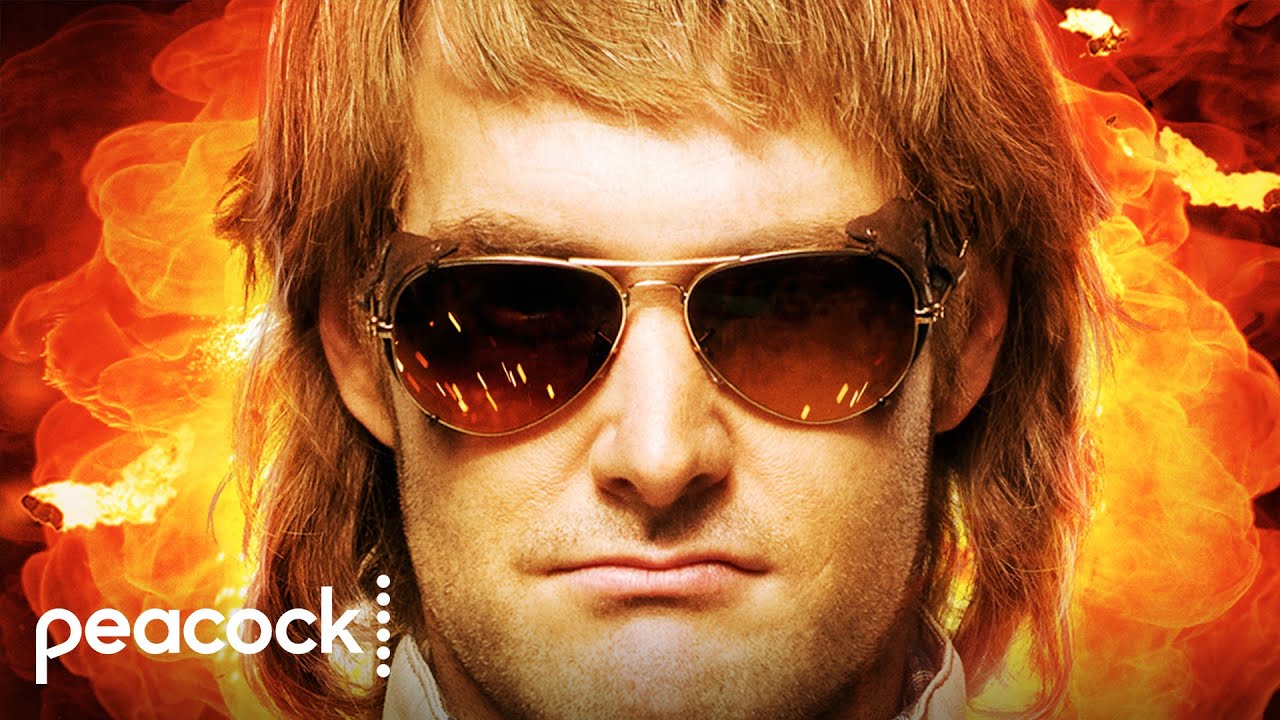 MacGruber Redband (Peacock). Will Forte returns as the title character, spun off from a SNL sketch and out of the slammer after 10 years in custody. Billy Zane. Kristen Wiig, Ryan Phillippe, and Timothy V. Murphy are back in action, with Sam Elliott (as MacGruber's father) and Laurence Fishburne joining in on the fun.
FRI/DEC. 17
89th Annual Hollywood Christmas Parade (The CW). FOr viewers who love snow-free Christmas parades.
With Love (Amazon Prime Video). A pair of siblings search for love in this five-episode rom-com set during different holidays over the course of a year. Stars Emeraude Toubia and Mark Indelicato.
"Swan Song" (AppleTV+). A drama set in the near future and starring Oscar-winner Mahershala Ali and a husband and father diagnosed with a fatal illness. His doctor, however, played by Glenn Close, suggests something that might shild his family from the pain of losing him. Also in theatres same day, with Awkwafina and Naomie Harris in support.
SUN/DEC. 19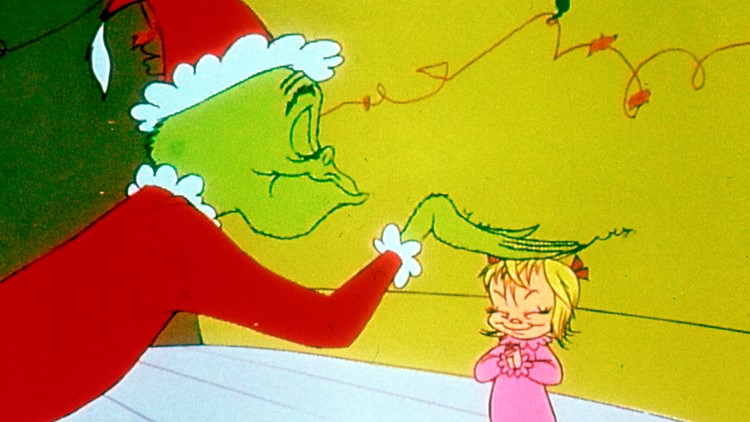 Dr. Seuss' How the Grinch Stole Christmas (CBC). The 55th annual airing of the 1966 animated classic. Directed by Chuck Jones with Boris Karloff making for an unforgetable Grinch.
A Charlie Brown Christmas (PBS). The 1965 Peanuts special returns for a 56th year on PBS, or you can stream it on AppleTV+.
Claws (TNT). The outrageous nail salon drama starring Niecy Nash returns for a fourth and final season.
MON/DEC. 20
Jamie Oliver's Quick and Easy Christmas (CBC). The British chef and dad of five shows how to prepare the ultimate holiday feast with a minumum of fuss.
TUES/DEC. 21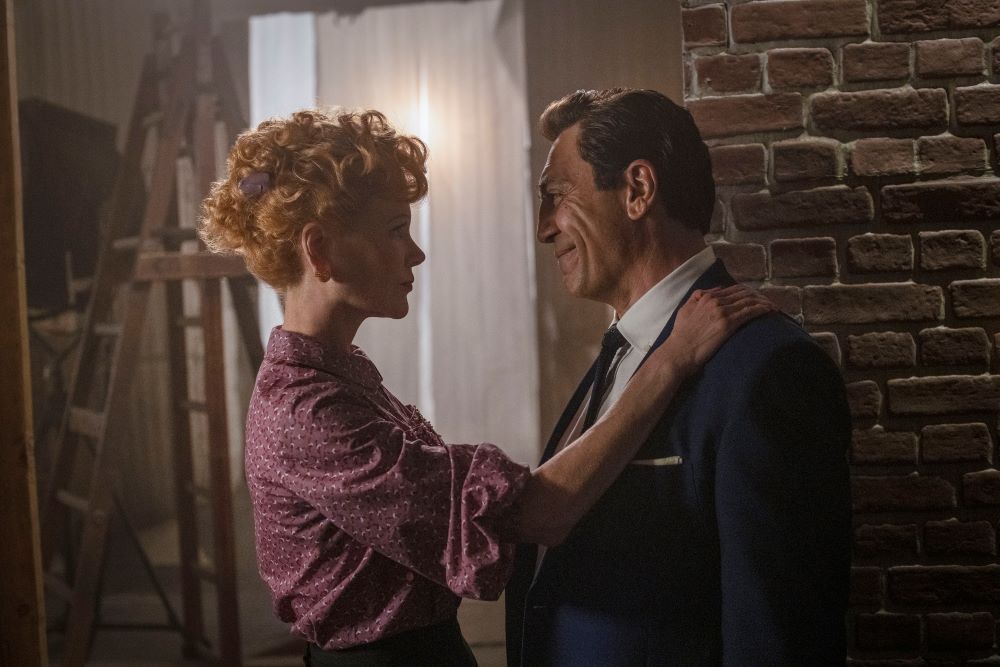 "Being the Ricardos" (Amazon Prime Video). If you miss this Aaron Sorkin take on Lucille Ball and Desi Arnaz, you've got some 'spainin' to do! Nicole Kidman plays America's favourite redhead; Javier Bardem plays her Cuban bandleader husband. It all takes place around one week in the life of the 1950's TV series I Love Lucy, as a Commie witchhunt crisis threatens to end everything for the couple.
Fantasy Island (Fox). Special two-hour holiday episode. Yes, of the remake.
WED/DEC. 22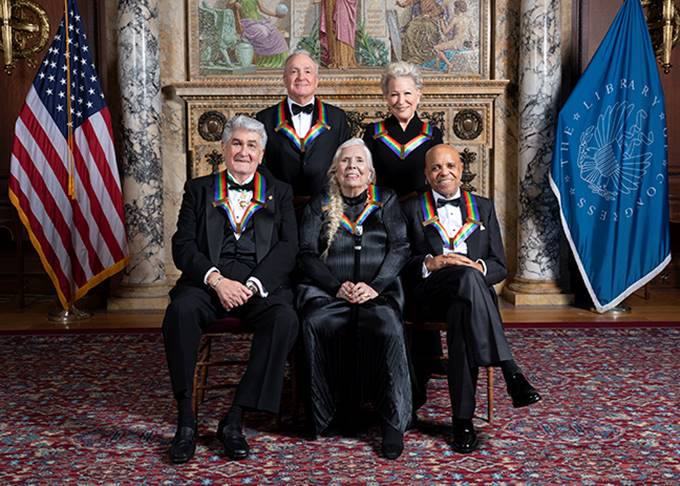 The 44th Annual Kennedy Center Honors (CBS). This year, the two hour special salutes two famous Canadians: Lorn Michaels and Joni Mitchell, as well as Berry Gordy, Bette Midler and Justino Diaz. Among the participants: David Letterman, Graham Nash, Dan Levy, Herbie Hancock, Chita Rivra, Steve Martin, Kate McKinnon, Seth Meyers, Jimmy Fallon, Amy Poehler, Paul Simon and Smokey Robinson.
THURS/DEC. 23
TMZ's Merry Elfin' Christmas: Bye, Bye 2021 (Fox). Celebrities goof on the top stories of the yar. Featuring Jol McHale, Howie Mandel, Nene Leakes and others.
Yearly Departed (Amazon Prime Video). Brampton's Alessia Cara and a bus load of femal stand-up comics — plus Jane Fonda — headline this comedy special poking fun at the hell that was 2021.
FRI/DEC. 24
"Don't Look Up" (Ntflix). Leonardo DiCaprio and Jennifer Lawrence star in this comedy from Adam McKay about a comet that is about to wipe out planet Earth. Merry Christmas! Meryl Strep plays the president of the United States, and there are many other famous faces, including Jonah Hill, Timothée Chalamet, Cate Blanchett, Ariana Grande, Tyler Perry, Gina Gershon, Chris Evans, Matthew Perry, Melanie Lynskey, Mark Rylance, Ron Perlman, and Kid Cudi.
SAT/DEC. 25
Letterkenny (Crave; bows on the 26th on Hulu). It's a good day for hay as the 11th season premieres.
Jimmy Carr: His Dark Material (Netflix). Stand-up comedy special from the bratty Brit.
MON/DEC. 27
The Year 2021 (ABC). News special looks at the year in headlines. Not for the faint of heart.
TUES/DEC. 28
Popstars Best of 2021 (The CW).
WED/DEC. 29
The Book of Boba Fett (Disney+). This Mandalorian spinoff with roots back to the Jabba the Hut movie days stars Temuera Morrison and Ming-Na Wen as deal-making Tatooine bounty hunters.
FRI/DEC. 31
The Great New Year's Baking Show (CBC, CBC Gem). Noel, Matt, Prue and Paul reunite in this special which sees past Baking Show contstants return to the tent to see who wins the Festive Star Baker title.
Canada's New Year's Eve: Countdown to 2022 (CBC, CBC Gem). Rick Mercer hosts with musical performances from coast to coast. Starts at 11 p.m.
Dick Clark's New Year's Rockin' Eve With Ryan Seacrest 2022 (ABC). By the time you say the whole title its 2023.
Miley's New Year's Eve Party Hosted by Miley Cyrus and Pete Davidson (NBC). OK, this title is even longer.
New Year's Eve Live: Nashville's Big Bash (CBS). That's better.