When it premiered late last summer, Only Murders in the Building quickly became the most watched comedy ever on the US streaming service Hulu. (It streams in Canada on Disney+'s Star platform.)
No surprise then, that a second season of the clever murder-mystery-comedy, starring Steve Martin, Martin Short and Selina Gomez as crime-solving podcasters, was quickly ordered. No date has been announced, but look for it sometime in 2022.
This week, ABC-Disney hosted a few "Midseason's greetings" virtual press sessions including a salute to the "Scene Stealers" of Only Murders in the Building: Amy Ryan, Nathan Lane and James Caverly.
The biggest scene stealer of them all, at least on my home screen, was Caverly and his American Sign Language interpreter, Monique Sarpy.
Caverly plays Theo Dimas, the deaf son of condiment King Teddy Dimas, played by Lane. Ryan plays Jan, Steve Martin's character's musician love interest.
A Michigan native, Caverly is deaf in real life. He graduated from the National Theatre of the Deaf, then acted in and directed several plays. He had just moved to New York City when, within weeks, COVID shut everything down. Fortunately, after a few months in lockdown, the producers of Only Murders called with the perfect part.
Caverly, through Sarpy, said that he's received a lot of positive feeedback on his performance from deaf communities. They also appreciated how well Nathan Lane was able to sign in the series.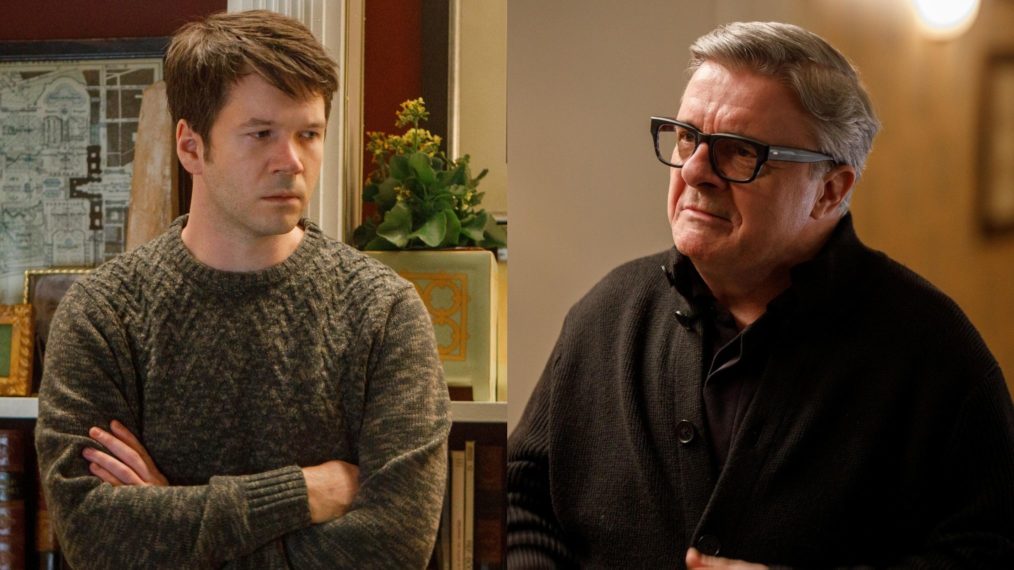 "Many folks didn't realize that Nathan only had two or three months of very intensive ASL instruction with our director of artistic sign language, Douglas Ridloff, and really worked hard to do sight translation of the script," said Caverly. "One of my friends said, 'Nathan has signing grace just like a ballet dancer.'"
Lane threw the credit back to his co-star. "James was incredibly helpful and supportive to me through the whole process."
Caverly says, as "a deaf kid in a hearing environment," he became interested in acting at a young age. He had been mainstreamed into a public-school setting, and was always "looking for people to pay attention to me." He would therefore act up in class, got attention, and in high school he realized, "Do you know what? I'm pretty good at this shit."
He signs so fast I couldn't tell what ASL is for "shit" but maybe that will be addressed next season on Only Murders in the Building.
There's no official word as to whether the Dimas, who, when we last checked in with them are in the slammer, might be part of Season Two. Lane and Caverly kept saying that they were on penalty of death not to say, "but send those cards and letters that you want to see more of the Dimases," suggests Lane.
The Broadway veteran and three-time Tony award-winner says he's enjoying getting shout outs from regular folks on the streets of New York after appearing in the series.
"I was walking my dog the other day, and a FedEx truck driver stopped and yelled out, 'Hey, murderers.' He called me 'murderer.  'Hey, murderers.' And he got out to take a selfie with me, which was very sweet."
Lane feels the series has been "a bit of a tonic for people because it's an interesting balancing act that they've pulled off, which is, it's a genuine comedy, it's a genuine murder mystery, and it's also an exploration of aging and loneliness in a big city."
I asked if any of these scene stealers were into podcasts themselves. Lane's first thought was that "a lot of people started podcasts because they had nothing else to do." A few months before the pandemic lockdown began, he said, he guested on Marc Maron's podcast "WTF," which Lane described as "the mothership of all podcasts." That's when he started to pay more attention to them and has since guested on others. He feels they provide "a more informal and relaxed conversation" as opposed to TV talk shows. "People are a lot more looser on podcasts, so I think it's a good thing for mankind."
Caverly said that while he's "never listened to a podcast for obvious reasons," he has been asked to do them and plans to in the near future. "I know that podcasts are becoming more accessible for deaf and hard‑of‑hearing individuals in the community, and so, when I see one, I'll be happy to latch on."