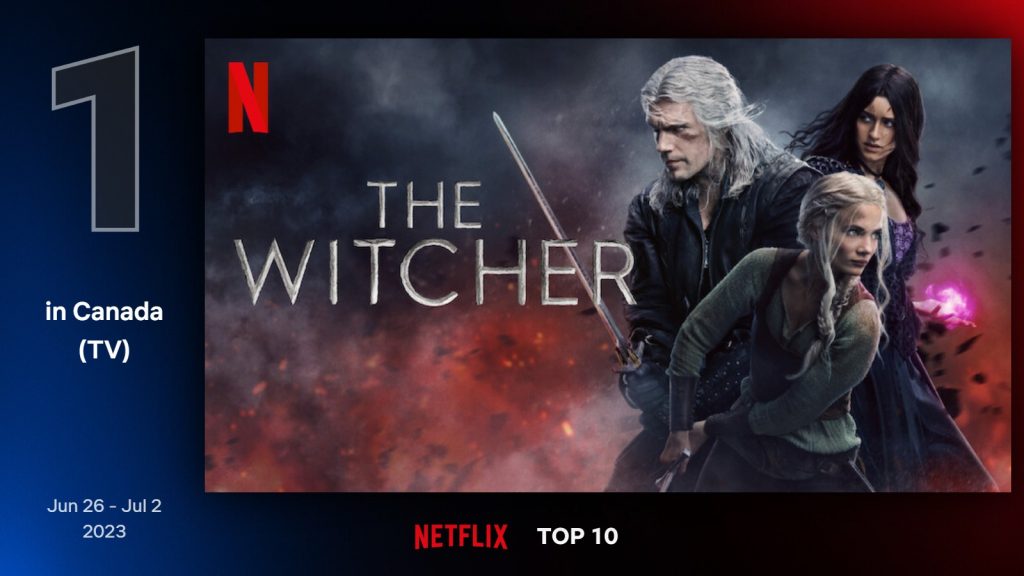 Season 3 of The Witcher cast a spell on Canadian and American viewers June 26 to July 2 to become the most watched Netflix series of the week in both countries. Muscles & Mayhem: An Unauthorized Story of American Gladiators premiered at No. 4, demonstrating that there is no shortage of interest in dudes jousting in spandex even in 2023. Meanwhile, Kim Cattrall's new series Glamorous still sparkles in the Canadian Top-10 at No. 5.
Knocked out of the Top-10, both Arnold Schwarzenneger projects: FURBAR and the three-part documentary Arnold. And he said he'd be back!
On the feature film side, Chris Hemsworth's "Extraction 2" remained the most-watched film about dentists ever on Netflix. Man, working jokes into these weekly Netlfix reports is like pulling teeth!
Here is how the entire Top-10 ranked:
JUNE 26 – JULY 2, 2023
| # | TVIN CANADA | WEEKS IN TOP 10 |
| --- | --- | --- |
| 1 | The Witcher: Season 3 | 1 |
| 2 | Catching Killers: Season 3 | 2 |
| 3 | Black Mirror: Season 6 | 3 |
| 4 | Muscles & Mayhem: An Unauthorized Story of American Gladiators: Limited Series | 1 |
| 5 | Glamorous: Season 1 | 2 |
| 6 | Animal Kingdom: Season 6 | 2 |
| 7 | Our Planet: II | 3 |
| 8 | Never Have I Ever: Season 4 | 4 |
| 9 | Sleeping Dog: Limited Series | 2 |
| 10 | Is It Cake?: Is It Cake, Too? | 1 |