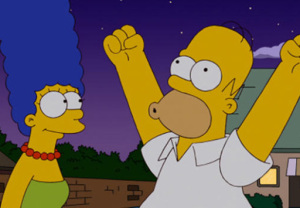 BEVERLY HILLS, Calif.–The folks at FXX got all of us excited Monday about this amazing new ap Simpsons World. Search and watch all 552 episodes. Create and curate your own playlists. Read scripts and watch episodes at the very same time!
This is Nerd-vana for Springfield nation. Then comes the whammo–not available in Canada.
D'oh! Thus has a lot to do with International rights, of course. Shaw Media has always been the Canadian destination for first run episodes of The Simpsons in primetime. But FX Networks paid millions to be the exclusive cable destination for The Simpsons in a deal in some ways not unlike Rogers' mega deal to sew up hockey rights in Canada. So if you want to visit Simpsons World, you gotta subscribe to FXX–and that means you gotta live in America.
For a more detailed explanation, thanks to Fox International Television President Marion G. Edwards, follow  this link to a report I filed Monday to The Canadian Press.