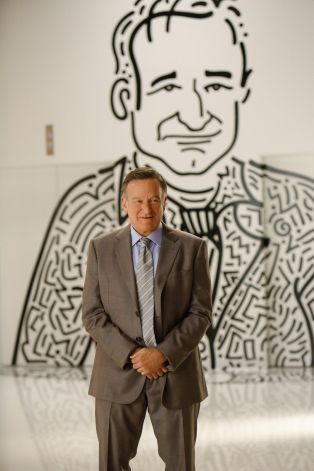 Some entertainers, you really hope that when you meet them, you like them. They've made you smile on TV or film and you hope for that same experience in a scrum or a press conference.
The thing about Robin Williams was that, when you met him, you liked him even more. The surprise was how candid and unguarded he was. Ask him a question and you got either a bit or a bit of truth—sometimes both in the same bracing response.
In 2009, Williams was at a TCA press tour to promote an HBO comedy special. Before the Q&A, a clip reel was shown zipping through highlights of his 30-year stand-up career, much of it chronicled in past HBO specials. What was it like to see that, he was asked.
"It's interesting.  I realize I need more therapy," he sorta kidded. "And to realize, 'Yes, I'm not dead, but they're showing a clip reel."
Williams said it was odd seeing transitions from his early, rainbow-coloured suspender days as Mork to his role as a comedy veteran. He singled out one clip as dating back to "getting out of rehab."
What would he say to the young guy in suspenders? "Brace yourself," he said, pun perhaps intended. "It's going to be a long run."
It was also, he acknowledged, a roller coaster ride, one cut short Monday as fans everywhere mourned his sudden passing at 63.
There was a sense even at the time of that press conference that one should bookmark this for the obit. "There's nothing I regret," said Williams, getting back into stand-up months after heart surgery where he had a pig value transplanted into his own beater. Williams talked about how lucky he was to play with the likes of Billy Crystal, Richard Pryor and George Carlin.
"Now we're all dead," he would probably say, just to crack up Crystal.
Williams was fine with turning his serious health scare into comedy gold. "Sex with a cow valve," he told us, "is kind of like a duel to the death between your penis and your heart." A drug he had to take he basically dismissed as rat poison. "One of the side effects is rectal ventriloquism."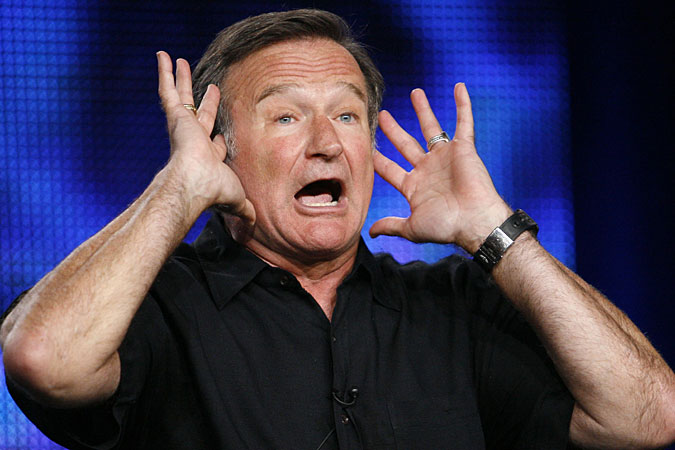 The jokes stopped when somebody asked if a heart scare was such a big leveler that he was now a changed man in a big-picture way. I think I might have asked it, but it sounds too smart. "Have you had an epiphany?" Williams was asked.
"That life-expanding experience. Walks on the beach with a defibrillator, uh-huh.  Yeah, I think it really opens you up, literally."
Williams talked about going on Letterman, and the shared heart scare connection they now had. Letterman leaned in during a commercial break and said, "Do you find yourself getting emotional?"
Yes, said Williams, who said he was taking more than stand-up a little bit slower. "Look at it more. Don't rush the conclusion."
It's like the John Cleese line in Meaning of Life, he said: "'Don't go stampeding toward the clitoris, boy.' Just take a moment. Look at it."
The heart scare made Williams realize a big truth: he was still here. He said he started calling up friends and basically thanking them for being there too. He was overwhelmed by the outpouring of affection he received from fans when news of his heart troubles surfaced. "We can make it, you know, with a little bit of comedy, a little bit of laughter," he told us that day.
He was just as engaging in the scrum afterwards. Even in the hallway, where he ran into my old pal Pat Bullock, who was "articling" a few of the tour days that year. Pat, a high school chaplain, got into a spirited conversation with the comedy legend. It ended with Williams inviting Bullock to come see his stand up show at Casino Rama later that year. I still remember Toby from HBO, tasked to make this happen, coming up to me afterwards and asking, "Who the hell is this guy Pat Bullock?"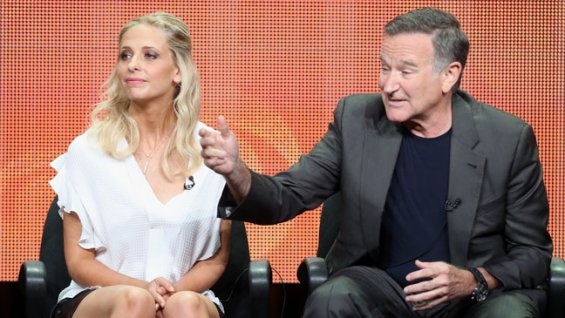 Jump ahead to last season and Williams is back promoting The Crazy Ones. By mid-season the show was already teetering, but an invitation to tour the set and interview the cast at the studio was still must-do. If you cover television, and Robin Williams has anything to do with it, you go. Not just because the story will sell, but because of the great gift of grace and energy and playfulness and, yes, truth.
The cast sat up front on director's chairs. The seats were all taken in front and I stood off to the side. When I was finally able to grab the mike, I asked if it was a struggle for the writer's to craft a show around William's many voices. I didn't ask it that smart so this time I know it was me.
I was really trying to get something back from David E. Kelley—an odd choice to be showrunner on this, I thought—but Williams jumped all over it. He started answering in all his many voices. He did like, five minutes.
It was a bit frustrating to not get a straight answer, but it was good for me to get a taste of what friends have put up with for years, plus pretty exhilarating, really, to play straight man to Robin Williams.
Later in that scrum he praised his Crazy Ones cast mates and also singled out his old Mork & Mindy co-star, Pam Dawber. There was talk of her making a guest appearance (which eventually happened).
"I wouldn't be averse," said Williams. "She was wonderful. She made my life amazing. On that show, she was my rock. She was the one that kind of kept it–when I was crazy as I was–she grounded it, gave it such heart and love and she was amazing. And I was on everything but skates at that time."
Colleagues who covered Williams' award-winning film career knew him to a far greater extent and had nothing but affection for the man. Bruce Kirkland at the Toronto Sun even gave Williams' tepid comedy RV a rave. When I asked him why later he just said any time spent with Williams was special and that was that, case closed. (Read Kirkland`s remembrance of Williams here.)
Former Global Entertainment Desk anchor Elaine Loring has always maintained Williams was her favourite interview ever and holds dear a photo she has of the two of them together. Leonard Maltin encountered Williams many times over the years for Entertainment Tonight and offers his own heartfelt remembrance here.
The word "mensch" keeps coming up over and over again on Twitter from folks who worked with the man as tributes pour in.
He leaves a great legacy of laughter and reached a remarkably wide audience. Williams made kids, parents and grandparents laugh and care.
That he was overwhelmed by depression or whatever demons at the end is frightening and awful. Williams may also be remembered now for drawing attention to the horrible cost of depression. He probably, however, would not want folks to dwell on the sad clown. When it was suggested at the launch of The Crazy Ones that his ad agency character had a bit of the sad clown within him he jumped all over the line.
"Especially a sad clown you wake up next and go 'Oh, my God.  What are those big feet doing in the bed?!'" he said, blue eyes dancing.
If you were going to call Robin Williams a sad clown, you'd better smile when you said it.