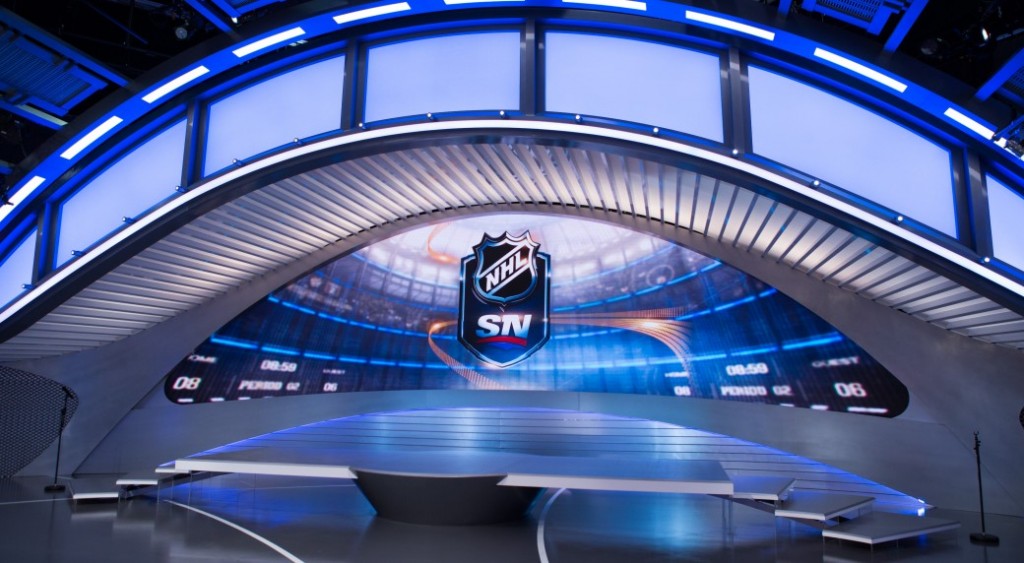 Think of all the referee helmet cam jokes we'll likely see next week on 22 Minutes. Like the ref accidentally leaving the cam on in the washroom, or getting caught scoping hot babes in the stands while ignoring infractions on the ice, or…the mind boggles.
The helmet cam was just one of the innovations trotted out Wednesday night on Rogers' first regular season NHL broadcast under their massive, $5.2 billion, 12-year hockey deal.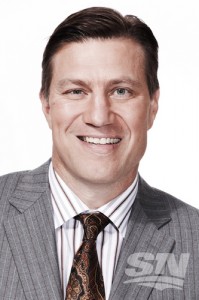 Rogers seems to have spent another $5.2 billion hiring every available white male in Canada to work their massive hockey night sports desk. The place looks like a red, white and blue Terminal 1. Even guys with bad hair, like CBC stalwarts Scott Oake and Elliotte Friedman, were in there mixing it up with Sportsnet regulars Jeff Marek and Darren Pang.
There were so many White Males on Rogers' hockey broadcast for a while there I thought I was watching The 700 Club. That's probably unfair–to The 700 Club. C'mon, guys–even U.S. college and pro football coverage sneaks female reporters onto the sidelines.
When we finally saw a female sportscaster during an intermission report, Evanka Osmack, the sound went out. Rogers delivered Wednesday night on every male fantasy.
Another CBC recruit, Cassie Campbell-Pascall, did surface during the second Calgary-Vancouver game of the hockey doubleheader.
The star on the desk is Nick Kypreos, the former NHLer who speaks his mind and always seems ready to back things up. Kipper kept getting up from the desk to make a point or grab a hockey stick or just do something physical. Look for him to beat the snot out of George Stroumboulopoulos by Week Three.
Much of the game coverage was first-rate. Tinkering was kept to a minimum, with only a glimpse here and there from the "Sky Cam" or "Helmet Cam." Veteran Jim Hughson did his usual crisp job delivering the play-by-play.
Speaking of Strombo, Rogers wisely kept his presence to a minimum in Wednesday's opener on Sportsnet. Loyal HNiC viewers may take a while to warm up to the former MuchMusic VJ and CBC talk show host. An intermission segment showing Strombo out for coffee with NHL stars  Sidney Crosby, Jonathan Toews and Henrik Lundquist seemed more like an ad for Starbucks or The Keg.
The Canadian Press asked me to review Wednesday night's inaugural Rogers NHL game. You'll find my take here.