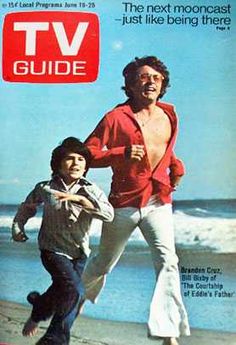 In a brave, new digital era of binge viewing, trust me to get hooked on a series which began back in the '60s.
The Courtship of Eddie's Father ran for three seasons, from 1969 to '72. I liked it as a pre-teen and enjoyed it even more the past several weeks as I caught up with all 73 episodes on DVD. Warner Bros. sells the series one season at a time and the sharp, colour-rich transfers are, as Norman Tinker would say, "Terrific."
Norman Tinker was played by James Komack, also the producer of the series. More on him in a moment.
First, it is a shame there are no extras on any of the DVDs. True, most of the principals have passed on, including Bill Bixby, who played single dad Tom Corbett, Miyoshi Umeki, who played housekeeper Mrs. Livingston and Komack, who was Tom's oddball friend and work-mate.
Brandon Cruz, soon to turn 55, survives and has great memories he could have shared on an episodic commentary or three. So does Jodie Foster, who played a tomboy friend of Eddie's who recurred the first two seasons. Kristina Holland, who played Tom's secretary Tina, is also alive and well.
I spoke to Cruz a few years ago at one of those Hollywood autograph shows; he signed the photo for me, (right). Cruz kept acting for a while after Courtship, was in a punk band (The "Dead Kennedys") and works now as an addiction counselor in Malibu. He loved Bixby and has wonderful memories of the three years they spent together on the series.
I share my joy in rediscovering the comedy in Sunday's Toronto Star. Find that "Rewind" column on-line here.
The series, to me, is HBO before HBO, one of a handful of gems that emerged in 1969 just as television started to grow beyond the high-concept comedies of the '60s. James L. Brooks was starting to hit his stride on Room 222. The occasionally animated My World and Welcome To It was another signal something new was happening, as was–believe it or not–The Bill Cosby Show. Laugh tracks were dialed down and sitcoms got serious–not to the extent they do  today on shows such as Louie, but keep in mind this is still the era of Gomer Pyle and Hee Haw.
As for Komack: He went on to create Chico and the Man as well as Welcome Back, Kotter. He gets credit for discovering John Travolta and Freddie Prinze.
Word is he and Bixby had a big falling out during the third season of Courtship. Bixby, who began collecting directing credits on Courtship, had a reputation as a fussy perfectionist. Komack seemed to cram too much of his Norman character into Season 3, leaving less room for the sweet relationship between father and son Tom and Eddie. According to Cruz, Umeki got fed up having nothing to say each week except for "Dinner's ready," and vowed not to return if there was a fourth season.
The reality is that ratings fell sharply in Season 3 with ABC shifting the series ahead against heavyweight competition Carol Burnett and Adam-12.
None of this matters now. There's probably just three seasons in a show about a kid enjoying his wonder years.
Enjoy what remains, especially the sweet interplay between father and son in the opening and closing montages. They were shot outdoors with a single hand held camera and, beyond the little life lessons, provide a golden time capsule snapshot of Los Angeles in the late '60s, early '70s. It's fun watching Tom and Eddie walk the tracks at the old Train Town amusement area off Griffith Park, scramble all over the Queen Mary, once moored down in Long Beach, or even just drive around in Bixby's cool convertible roadster.
There are shots within episodes, too, of Corbett and Tinker driving to LAX or around Century City. Everything looks new and beautiful and the dialogue sounds crisp, too. Sound may have been dubbed later (it looks to be recorded live), but these kind of traveling car shots were still mainly done in a studio with movie backgrounds and crew members rocking stationary cars with two-by-fours. Komack brought the outdoors into Eddie's world in a way seldom seen on sitcoms of the era.
Could the series be re-made today? In the right hands, yes. The father-son connection would be just as golden, even in a more cynical world. I gasp as Louie CK navigates fatherhood on Louie but you stay hooked because it is so real. It would be interesting to see a new Courtship emerge in the hands of Judd Apatow or Jill Soloway.
Until then, track down the DVDs, and curse me later when that catchy theme from Harry Nilsson gets stuck in your head.