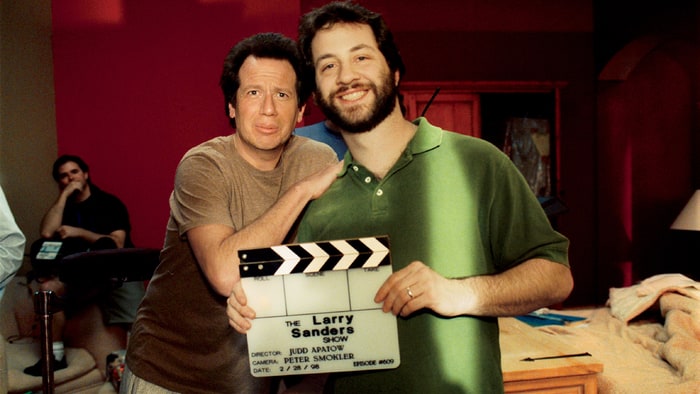 Here's what really surprised me about The Zen Diaries of Garry Shandling. It's too long.
Judd Apatow's new documentary about his close friend and mentor, the late, great comedian Garry Shandling, premieres over two nights Monday March 26 and Tuesday 27 on HBO and HBO Canada. Eat early and set a long evening aside if you intend to binge it; it clocks in at four hours and eighteen minutes.
While that's barely an interstitial if you're a Ken Burns fan, an hour or two into the Zen Diaries I started wishing Burns had made this tribute to Shandling instead of Apatow.
Now, that's surprised me. I'm also a big fan of Apatow (although the third and final season of his  Netflix comedy Love is hard to Like). He seems to be the perfect person to write, direct and produce this doc. While still a nerdy, high school teen, he sought out and approached Shandling — then fresh off his benediction by Johnny Carson on The Tonight Show — and interviewed him. He talked about that meeting last January at the Television Critics Association winter press tour:
So I was 16 years old, and I called Garry Shandling's publicist.  And back then, you could get an interview with someone because there were no podcasts, there was no Internet, and comedians, no one cared about them at all.  So if you asked for an interview with a comic, they would say yes even if you were from a high school.
Shandling and Apatow stayed in touch. Not that many years later, Shandling hired Apatow to write jokes for him heading into a Golden Globes hosting gig. Apatow eventually became a writer and producer and even a director on Shandling's great grad school of TV comedy The Larry Sanders Show.
Sometimes, however, the hardest stories to tell are the ones that are closest to you. I've found that over the years; I can crank out copy on some British cooking show far faster than an essay on Warner Bros. cartoons or The Beatles.
Apatow also took on a very challenging task. He was aware that, for 30 years, Shandling kept diaries in a trunk. They were intensely self-revealing and are used throughout the doc as the through point of Shandling's life journey.
Apatow tries to render some of this information in an animated way, with diary entries scribbled on the screen in what looks like Shandling's own handwriting. It's a somewhat effective approach, because if makes the viewer feel he or she is reading these secret diaries along with Apatow.
Finding the right tone and balance in telling a spiritual story, however, is aiming killer high. Even as esteemed a storyteller as Martin Scorsese seemed guided by faith as he slogged through his flawed but spellbinding film about George Harrison, "All Things Must Pass." Audiences almost have to light incense, meditate and chant in order to get to a more centred space for this kind of enlightenment.
Hats off to Apatow for trying in the middle of doing 11 other tasks, including his own back-to-basics journey  over the past year or so as a stand-up comedian. He probably has been on his own zen diaries-worthy adventure.
For viewers seeking to get into Shandling's head, however, there are, in my mind, better ways. Start by watching some of the source material that finds its way into "Zen Diaries," including the 20 minute or so episode of Comedians in Cars Getting Coffee featuring old pals and studio lot neighbours Jerry Seinfeld and Shandling. (You can find it now on Netflix.) Released just weeks before Shandling's sudden death from a heart attack at 66 in 2016, the episode is hilarious, touching, sweet and very informing. If the secret of comedy is timing, no episode of anything was better timed. The two men talk about life and death — a lot about death. If they had scripted it as a final curtain call, it would not have been so apt.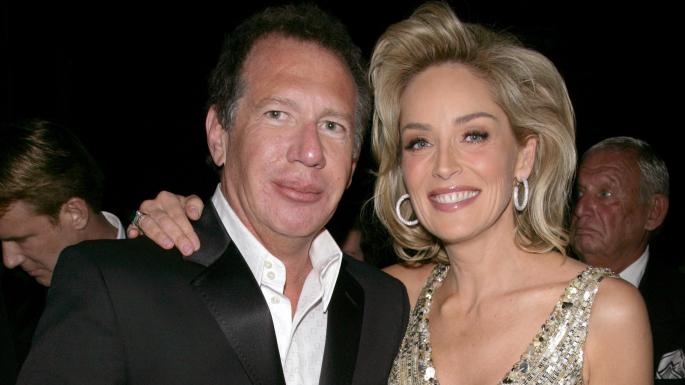 Then, go back and watch, if you can find them. the extras on the original, out-of-print, Shout! Factory boxed set DVD of The Larry Sanders Show. Shot a dozen years or so after Larry Sanders ended, Shandling essentially created his final series on that boxed set, exploring and deconstructing his relationships with his fellow cast members and other collaborators. The one featuring Sharon Stone is so electric it remains the greatest reality show I've ever seen. The one with Seinfeld, however, is the one to watch right before or right after watching that Comedians in Cars episode. It states and shows the effectiveness of smart filmmakers exploring and confronting sometimes uncomfortable truths — live, and without a net. For Shandling, that is where anything worth pursuing starts. Seinfeld clearly paid attention; it informs every episode of Comedians in Cars — although Seinfeld the editor maintains his theory that you can sometimes get to the truth faster and funnier with cutting and editing.
Apatow got that, and there are moments in "Zen Diaries" where those same pennies drop. There are other passages, however, where he could have shut things down and asked, not just What Would Garry Have Done, but What Would Jerry Do?
Read more here at this feature I wrote for Movie Entertainment magazine.