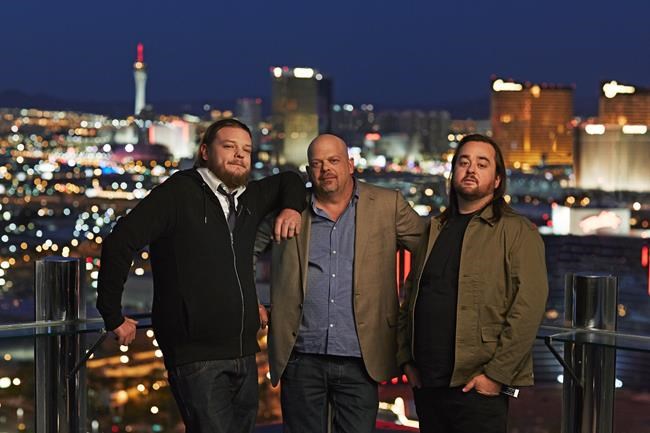 Earlier this year I was down in Vegas with three friends I've known since high school. Normally, what happens in Vegas stays in Vegas, but we're all so old now the only hi-jinx we got up to was ordering the four egg special with extra pancakes from the Hash House a Go Go.
After we fueled up we made our way over to the World Famous Gold & Silver Pawn Shop, featured on History's ever popular reality series Pawn Stars. Owner and impresario Rick Harrison and his TV sidekick "Chumlee" (Austin Lee Russell) greeted all of us in their back-of-store boardroom for a fun and informal chit chat.
Harrison, who has a mind for all sort of facts — especially when it comes to civil war memorabilia and other collectibles brought into his shop — is also well versed now in TV lore. He pointed out that the series was closing in on The Simpsons as the prime time series with the most number of episodes. To date, Pawn Stars has produced 539 episodes, behind only Lassie (591), Gunsmoke (635) and The Simpsons (which aired No. 647 this past Sunday) as far as Harrison is concerned.
For more on our Pawn Stars summit with Harrison and Chumlee in Vegas, follow this link to the Canadian Press feature I wrote about the encounter. You can also watch my interview with Chumlee from a few years back here at the Brioux.TV YouTube channel, where I quiz him as to the origins of his nickname — derived from an old Saturday Morning TV character from the '60s. If there was any doubt as to the enduring popularity of this series, note that this video has been watched close to 25,000 times!
Surprisingly, that only ranks it as the fourth most-watched video on my YouTube channel, well back of a video I shot featuring two stars from a series spun-off from Pawn Stars: Counting Cars. So far, that vid has drawn over 102,000 viewings — and counting!