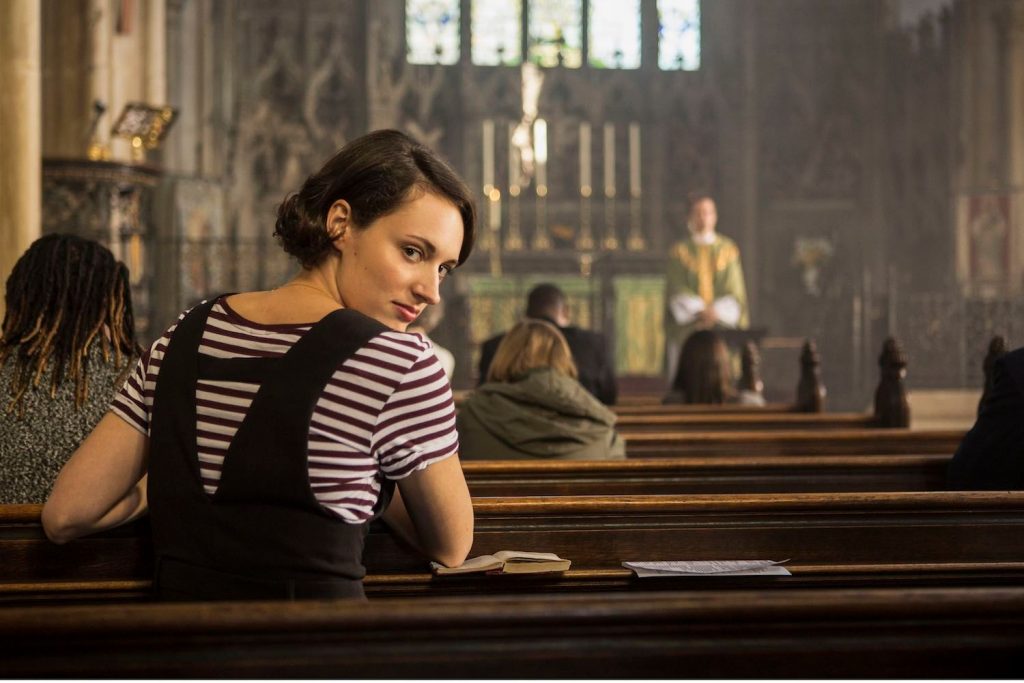 Friday marks the return of one of the most audacious and astounding TV comedies I've ever seen — Fleabag. It was released earlier this year in The UK and finally makes its second season premiere in North America today on Amazon Prime Video.
The reviews so far for this second six-episode season have been rapturious: "A Profane and Profound Sequel…" — The Hindustan Times; "The Agony and the Ecstasy of Fleabag" — The Atlantic and, my favourite, "The Hot Priest in 'Fleabag' says Kneel and it Never Sounded Sexier" — The New York Times.
Even Alan Sepinwall at Rolling Stone called it, "A Heaven-sent Sequel." The reviews are so good it's making me nervous.
The creator, writer and star of the series, 33-year-old Londoner Phoebe Waller-Bridge, has rocketed up the showbiz ladder since Fleabag premiered in 2016. She went on to create Killing Eve and was recently called in to doctor the latest James Bond movie, the 2020 release still going under the temporary title "Bond 25."
The series was born out of a series of live, one-woman performances Waller-Bridge did at the 2013 Edinburgh Festival Fringe. She was at the TCA press tour in Pasadena in February to promote the return of Fleabag during the Amazon sessions.
She talked at the session about ideas she kept jotting down for Season Two: "I open the notebook and most of the jokes and most of the ideas I had were about religion. And so it was a kind of, like, subconscious thing, and I just felt like it really resonated with me, the idea of an atheist trying to find meaning in a world where everything seems so confusing, and finding some kind of connection with hope, and the more I started thinking about religion and what it means now, the more relevant it seemed, and the more we sort of need to have faith in something."
Fleabag begins season two with a crush on her clergyman (played by Sherlock's Andrew Scott). This shattered, single woman still has a lot of loneliness to work through, and, apparently, so does he. Oscar winner Olivia Coleman is back and just as nasty as Fleabag's potential mother-in-law; Sian Clifford plays Fleabag's long-suffering sister.
One of the things that fascinating me about Waller-Bridge right from the first scene in Season One was her devastating look to the camera. She didn't just break the forth wall; she erased it. Not since Oliver Hardy in the Laurel & Hardy two-reelers of the '20s and '30s had I seen such a look.
I wanted to ask her about it so badly last February I fought through the ring of publicists who were keeping reporters at bay at Amazon's press tour after-event. No, said Waller, she was not at all influenced by Oliver Hardy in mastering her look to camera. "I never actually thought of them as a reference for that," she told me. The look really developed after Fleabag's run as a stage work. Waller-Bridge would stare out at the audience throughout her one-woman performance.
There was, however, another movie star stare that helped put the eye contact idea in her head: "I watched "Alfie" quite a lot– the Michael Caine "Alfie," she said. "It was more about how you can manipulate an audience by looking at them in the eye."