Wednesday night's "Live in Front of a Studio Audience: Norman Lear's 'All in the Family' and 'The Jeffersons'" was an uplifting homage; a sweet valentine to TV in the '70s.
If you're old enough to have watched these classic sitcoms back in the day, then this night was for you. I could have just looked at the sets for 30 minutes in hi-definition on a 16:9 flat screen.
Having top actors from today perform off of original, unaltered scripts seemed risky. As each release from ABC announced that Woody Harrelson, Jamie Foxx or Kerry Washington would be part of the mix, the worry grew that it would all dissolve into an over-long Jimmy Kimmel Live post-Oscars celebrity sketch.
Instead, the wonder and joy of this restaging was seeing how the various actors approached, and stuck with, their parts.
Can we talk about Harrelson and Marisa Tomei off the top at the piano singing "Those Were the Days" live? Tomei's commitment to her own personal homage to Jean Stapleton was irresistible. She threw herself into that song like no one was watching and earned that smooch from Harrelson at the end. Then she brought Stapleton back to life physically with every shuffle and trot to and from the Bunker kitchen. All the halting looks and mannerisms were there.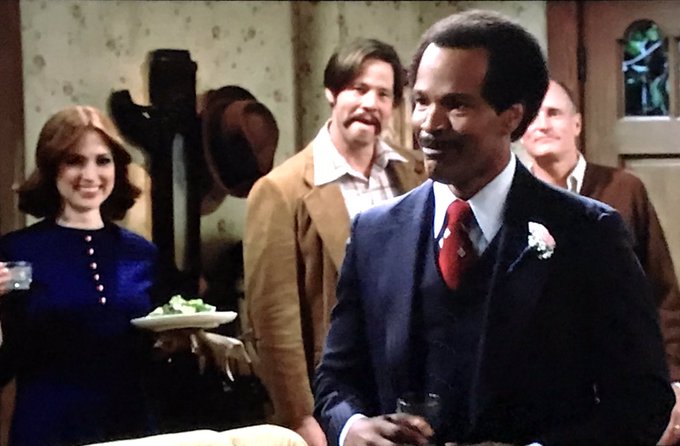 Harrelson had probably the toughest job of the night — trying to get under the skin of the unforgettable Carroll O'Connor. He eventually managed to make the role his while still paying tribute to the original actor. Jamie Foxx got some of the biggest laughs, especially with her chicken dance salute to the original George Jefferson, Sherman Hemsley. It was even forgivable when he broke the fourth wall and went up on his lines, temporarily shifting into stand-up mode. The audience both at home and in the studio embraced the break as long as the fun was all shared.
Wanda Sykes nailed it as Louise "Wheezy" Jefferson, completely making the role her own. It seemed as if original producer Lear and special producer Jimmy Kimmel left the decision on whether or not to play it old or new entirely up to the actors involved.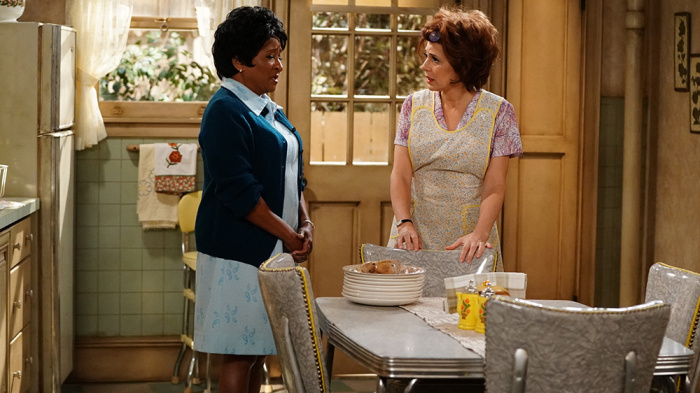 Both Sean Hayes (as Bunker neighbour Mr. Lorenzo) and Stephen Tobolowsky (fussy Jeffersons' neighbour Mr. Bentley) made the most of showy minor roles. Kerry Washington and Will Ferrell were delightful as the Jeffersons' blended friends Helen and Tom Willis. Anthony Anderson (Uncle Henry) was subdued but helped anchor his exchanges with Harrelson and especially with wild card Foxx. Ellie Kemer (Gloria) and Ike Barinholtz (Meathead) seemed the least like the originals (Sally Struthers and Rob Reiner), with Barinholtz in particular less able to channel Reiner's generational angst (although; nice 'stache). Jovan Adepo was fine as Lionel Jefferson, although nobody could match original actor Mike Evan's '70s 'fro.
An added bonus was Jennifer Hudson's glorious, full-throated rendition of The Jefferson's "Movin On Up" theme song, one of TV's best ever (as I'll proclaim next week on Toronto Mike). It was originally sung (and co-composed) by Ja'Net DuBois, who played gossipy neighbour Willona Woods on another Lear sitcom, Good Times. Another perk was seeing 87-year-old Marla Gibbs — the only surviving principal cast member from The Jeffersons — gamely return to reprise her role as George and Louise's sassy maid Florence Johnston.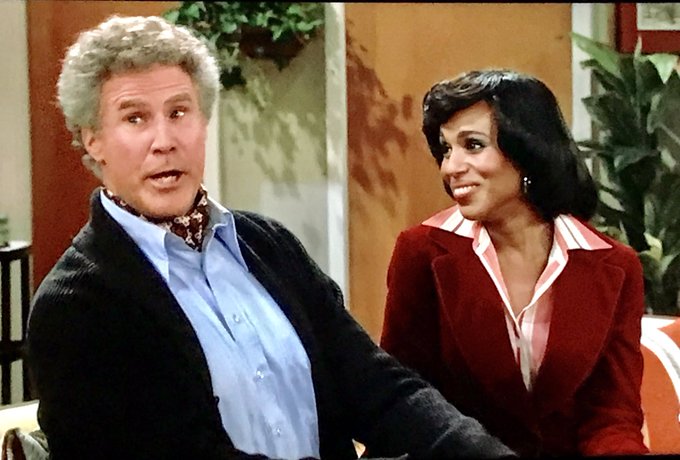 The real stars were the two scripts. Word-for-word from the original, 45-year-old telecasts, they held up remarkably well. Just one or two times a reference fell flat, as in when Harrelson's Archie mentioned the Mills Brothers (although, kids, look them up on iTunes. Harry Mills taught them all how to sing mellow). A discussion of long-ago LA mayor Tom Bradley also likely got some "Who he?" from viewers. Mentioning Nixon, however, travels through time like, well, Hitler.
The Jeffersons' episode, the pilot from the series, flew past with plenty of punch. The script called on actors to drop the N-word a couple of times. The decision was made to keep it but bleep it. Those were the moments when it raised the most questions about then and now, as in, "How did they allow it then?" and "Why can't you say it now?"
Kimmel, who grew up with these shows and championed this pet project, seemed beyond himself with happiness at the end. So what's next for "Live in Front of a Studio Audience"? More please. This should happen twice a year, the way CBS colourizes I Love Lucy's and Dick Van Dykes over holiday weekends.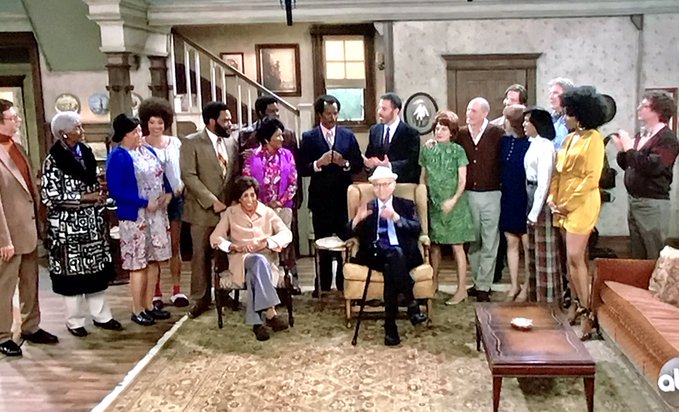 Biggest mistake of the night? No Canadian network picked this up. The 90-minute special easily won its timeslot, beating season finales of Chicago Med and Chicago Fire on NBC. It doubled ABC's usual Wednesday night take.
Broadcast network TV's future may lie in continuing to mine its past. Certainly there are more Lear shows worthy of do-overs, including Maude, Good Times and Sanford & Son. Beyond Lear, who wouldn't watch new actors tackle Cheers, Barney Miller or even WKRP in Cincinnati? Live, studio audience TV comedies are a unique American art form and the best of them should be performed on stages with other actors. "King Lear," yes, but more live Norman Lear, please. Now that would be worth the drive to Stratford.
RADIO TAKE: Listen in here as I talk with Global News Radio's Jeff McArthur at AM640 about which stars gave the best performances on Wednesday's Live retro TV classic.
UPDATE: If you were a Meathead and missed it Wednesday, ABC is repeating the 90-minute special Saturday night.