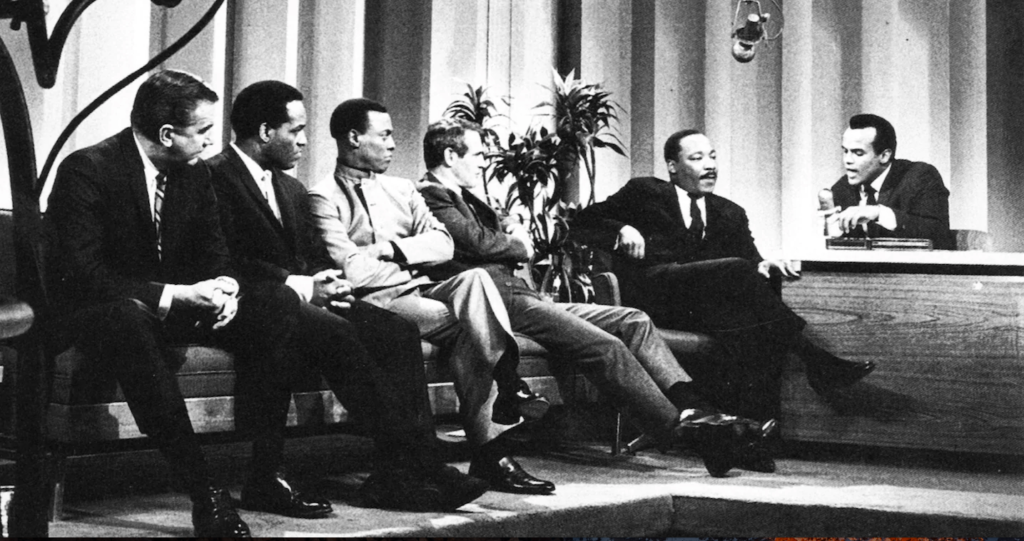 It's a sad fact: many hours of TV history have been lost in order to make room on shelves for large, bulky videotapes. Among the most tragic examples are the first nine or ten seasons of The Tonight Show starring Johnny Carson.
The years in question are 1962 to roughly '71, the New York years before Carson moved his show to California. Some hours survive, such as Tiny Tim's bizarre wedding to Miss Vicky in December of '69. Lost, however, is Carson's Tonight Show debut, an episode from '68 featuring John Lennon and Paul McCartney, and the week of February 5 to 9, 1968.
The documentary The Sit-In: Harry Belafonte Hosts The Tonight Show, which premiered on Peacock and Crave Monday, covers that week as best it can. Only segments of two episodes — featuring guests Martin Luther King and Robert Kennedy — survive, albeit in black and white form. (They would have been originally broadcast in colour.) They provide a snapshot of calm in the eye of the hurricane that was 1968.
Both King and Kennedy are fascinating. Both arrive with jokes and are prepared to entertain. Both also look truly scared at times, or at least overwhelmed. This was a "heavy" time as people said back then. Belafonte asks King if he feared for his life. The sombre answer was not a typical Tonight Show exchange.
I was ten years old at the time, and while I'm sure I wasn't allowed to stay up late enough to see these Tonight Show episodes, I was well aware that the war in Vietnam raged on our TV every night, even on local Toronto newscasts. The My Lai massacre had just occurred, a horrifying turning point, souring millions on the war. Richard Nixon had just declared his intention to run for U.S. president, as had George Wallace. Lyndon Johnson was about to tell America he would not seek or accept his party's nomination to serve another term as president. The assassinations of King and Kennedy were weeks and a few months away. A summer of rioting and domestic unrest lay ahead.
The documentary benefits greatly from the lucid longevity of Belafonte, now 93. The singer-songwriter was popular with all audiences, Black and White, and an early and effective supporter of the Civil Rights movement.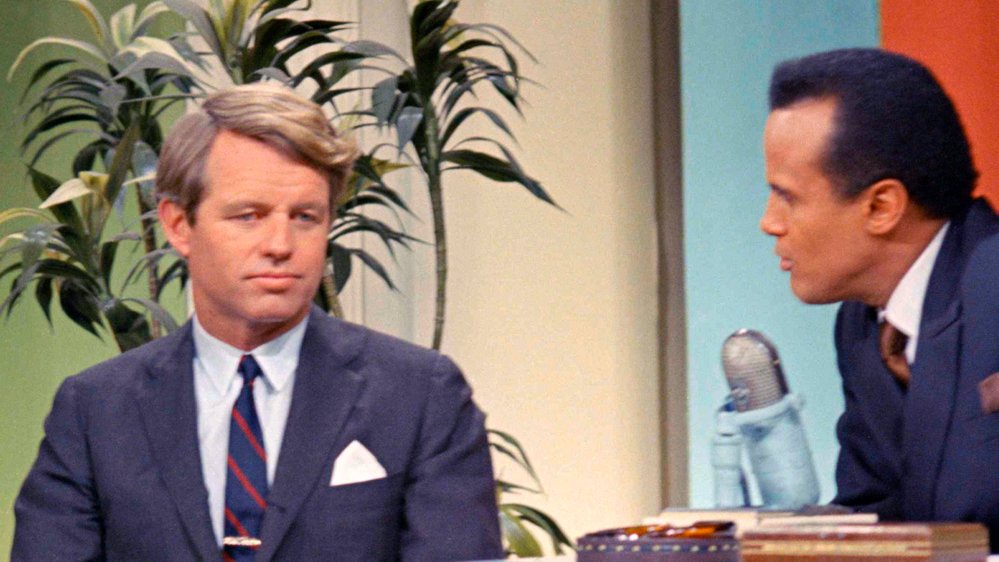 As former New York Times columnist and "Late Shift" author Bill Carter notes in the documentary, Johnny Carson was not quite the all powerful King of Late Night when he generously handed his show over to Belafonte. Six years into a 30-year run, Carson, however, was powerful and, more importantly, hip to the headlines enough to seize an opportunity. He could see that, rather than simply providing a late night distraction from all the upheaval in America, he could best address it by handing his NBC showcase over to the popular African-American entertainer.
That baton toss represented a tremendous breakthrough at the time for African American viewers. Ratings went up that week, as Belafonte notes. Two surviving guests — Buffy Saint-Marie and Dionne Warwick — talk about the effect the shows had at the time. Others weighing in are Whoopi Goldberg, Questlove and Wesley Morris.
Look at who else guested on the Tonight Show that week: besides MLK and Kennedy, Sidney Poitier, Aretha Franklin, Wilt Chamberlain, Bill Cosby, Lena Horne, Nipsey Russell, Paul Newman, Marlon Brando and the Smothers Brothers.
Belafonte also invited blacklisted entertainer Leon Bibb onto the show, who sang a sorrowful rendition of Leonard Cohen's "Suzanne."
Executive produced by MSNBC host Joy Reid and directed by award-winning filmmaker Yoruba Richen, the documentary is enriched through the discovery of "lost" audio tapes of two of the five complete episodes, recorded by collector Phil Gries, who appears in the film. His one regret — not taping the other three nights.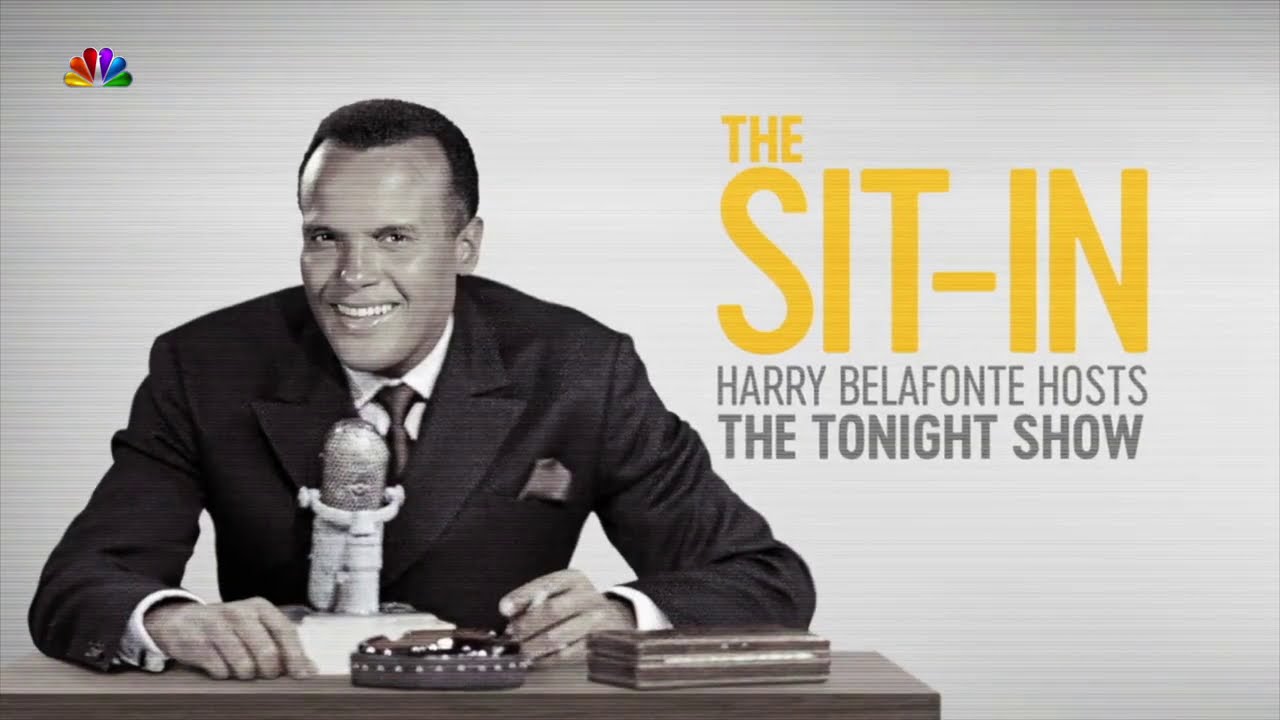 Also guesting was singer Petula Clark, who recounts the controversy she and Belafonte endured at the time from an innocent shoulder touch during a musical number. This documentary is filled with moments that make it seem like the world has changed dramatically and then that it hasn't really changed at all. Watch, shake your head and think, as the song goes, when will we ever learn?
If you missed the premiere Monday, the documentary can be streamed on demand at both Peacock and in Canada on Crave. Highly recommended.