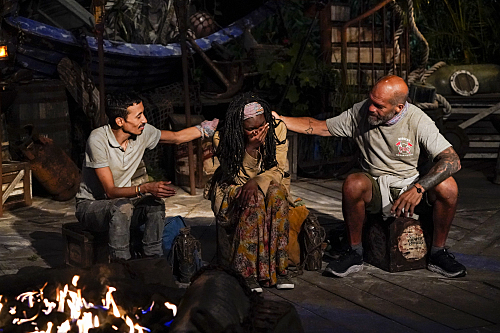 Fire up the Tiki torch and pass the Doritos: Survivor remains the most-watched show in Canada for an eighth week in 2022.
In it's 42nd edition, the castaway series was No. 1 among all viewers in Canada, in total, Live+7 data, every week in May and three out of four weeks in April. Over a 12-week run, it has only been topped on the weekly Numeris ratings charts in 2022 four times: by The Academy Awards, The Good Doctor (twice) and 9-1-1: Lone Star (once).
Moreover, with its season finale, it widened its lead May 23-29, drawing close to 140,000 more viewers across Canada than the second most-watched show of the week, Global's simulcast of 9-1-1.
Here is how the Top-10 fared in English Canada May 23-29 in Live+7 totals, ages 2+, as measured in average-minute-audience (AMAs):
Survivor (Global) Wed 1,702,000
9-1-1 (Global) Mon 1,569,000
The Good Doctor (CTV) Mon 1,546,000
9-1-1: Lone Star (Mon 1,478,000
NCIS (Global) Mon 1,325,000
Station 19 (CTV) Thurs 1,290,000
CTV Evening News (CTV) MTWTF 1,261,000
Grey's Anatomy (CTV) Thurs 1,256,000
FBI: International (Global) Tues 1,241,000
NCIS: Hawai'i (Global) Mon 1,180,000
In other season finales: The Masked Singer ranked 11th (1,179,000 CTV viewers); FBI 12th (1,175,000 on Global); Young Sheldon 14th (CTV, 1,050,000); Saturday Night Live 15th (1,027,000, Global); Chicago Fire 16th (996,000, Citytv) and The Conners 17th (982,000, CTV).
The series finale of This is Us concluded to 1,123,000 CTV viewers, ranking 13th for the week. The conclusion of the six season weeper dropped down to 29th place in Toronto-Hamilton. The very last episode of Bull drew 909,000 on Global, fimishing 20th.
The grand finale of Canada's Got Talent drew 884,000 on Citytv, ranking 21st for the week.
Measured over six nights, the 2nd Round of the NHL Stanley Cup playoffs averaged 834,000 fans across Canada, nabbing 24th spot for Sportsnet National. With Toronto eliminated the week before, the 2nd round NHL playoff action disappeared altogether from the Toronto-Hamilton Numeris Top-30. In the Calgary and Edmonton markets, however, the Stanley Cup average ranked first and third for the week.
Two Blue Jays games on Sportsnet Ontario ranked 14th for the week in Toronto-Hamilton.
No scripted Canadian original made the list of Top-30 most watched shows across Canada May 23-29.