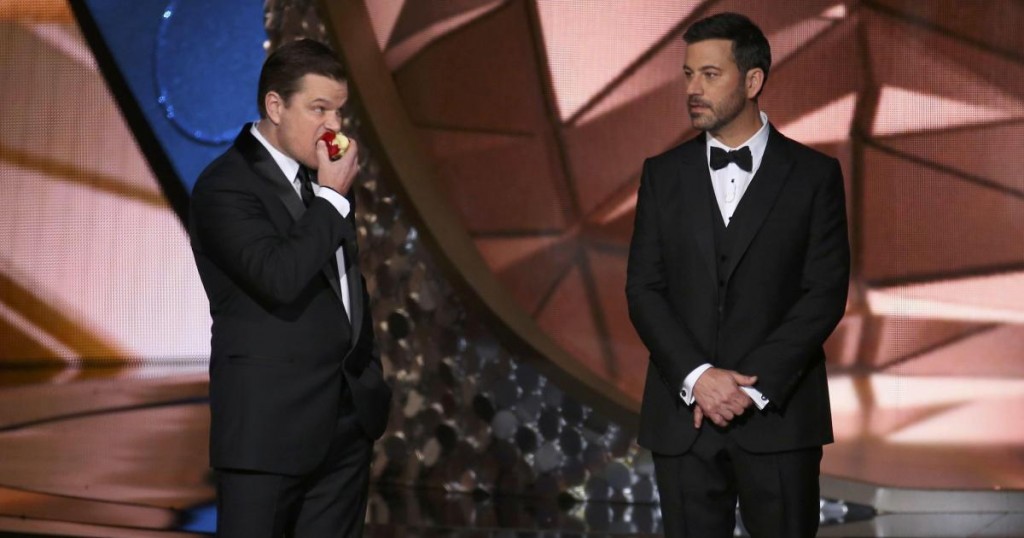 Okay, it's official: as television eclipses film, The Emmys is so much more the show to watch these days instead of The Oscars.
Sunday night's 68th Annual Emmy Awards was pretty terrific from start to finish.
Host Jimmy Kimmel has played this room before and that helped. He knew how far to push things, kept his monologue short and snappy and saved some of his best lines for in-between the awards themselves. Line of the night was Kimmel's comment that Transparent — the Amazon series where Jeffrey Tambor plays a transgendered character — "was born a drama but identifies as a comedy." He also had The Apprentice creator Mark Burnett squirming for creating this monster known as Trump and turning America into one big reality show.
Kimmel even made Jeb Bush look funny. He deserves his own Emmy award just for that. Bush had a bit part in the filmed opener as a limo driver. Hey, work's work. He asks Kimmel if he the host had been nominated for best late night talk show (he was). "What's that like?" he asks, "to be nominated?"
Kimmel lost in the late night category (to deserving winner John Oliver), which led to a very funny bit where arch rival Matt Damon walks on stage, chomping on an apple, and mocks Kimmel as a loser. Their "feud" is straight out of the Jack Benny-Fred Allen comedy playbook.
Less of a hit in the room, although I liked it, was the introduction of Bill Cosby as a presenter. Kimmel walked out and said he just wanted to see how the house would react. People were ducking under chairs and heading for the exits. A bit where PB&J sandwiches, made by Kimmel's mother, were handed out was a pass for me. Enough with the selfies and sandwiches.
Proof that the Emmys are no longer lagging behind the times could be found in the Comedy category. Here you had deserving Veep winning again (transitioning smoothly from showrunners Iannocci to Mandel), with Tambor taking the Best Actor nod, Louis-Dreyfus the Best Actress and Aziz Ansari and Alan Yang Best Writing for Master of None. So wins for HBO, Amazon and Netflix. Add FX, big winners on the night thanks to the worthy miniseries "The People vs. O.J. Simpson," and there you have where a lot of today's best content lives.
One could argue that The Emmys are still two years behind the times in finally saluting Tatiana Maslany. Still, what an astounding win against a tough field: Tarji P. Henson (Empire), Clare Danes, Keri Russell (terrific last season on The Americans), Robin Wright and Viola Davis. Carumba!
Maslany wins for a series shot in Toronto that is about to go into production on its final, 10-episode season. The Regina, Sask.-native should have her pick of great roles ahead, hopefully one at a time. She is the first Canadian woman on a Canadian-made series to win a drama acting award at The Emmys.
FX had its biggest Emmy haul ever led by "The People vs. O.J. Simpson" with nine awards, including Best miniseries, Best Actor (Coutney B. Vance as Johnnie Cochran), Actress (the so-deserving Sarah Paulson, who brought Marsha Clark as her guest) and Sterling K. Brown, electric throughout as Christopher Darden. All three made great speeches. Just about everybody ignored the exit music cues, which was fun.
Dreyfus won her fifth in a row for Veep and drew gasps from the crowd when she saluted her dad, who passed away Friday. Patton Oswalt's Emmy win allowed him to make a subtle salute to his late wife.
With Oscar chided for being #soWhite last winter, television continued to make strides with diversity, right from the opening category when Aziz Ansari and Alan Yang won for writing on Master of None. By the end of the night, diversity ceased to be an issue as a steady parade of individuals accepted statuettes.
The In Memoriam segment was classy and moving as usual, Big names such as Garry Shandling, Garry Marshall, Morley Safer and Patty Duke were mixed in with so many great scene stealers such as Ann Morgan Guilbert, Al Molinaro, Fyvush Finkel,  Abe Vigoda and Doris Roberts. William Schallert was in everything in the '60s; Hugh O'Brian was a major western star. The Academy could have taken out Muhammad Ali, a towering sports star saluted elsewhere, as well as music icons Prince and David Bowie and made room for a few key TV omissions, especially Pat Harrington, Jr., the last of Steve Allen's house players, and The Waltons' creator Earl Hamner.